Quick note: Our office will be closed this Thursday and Friday while we spend time with our families for the Thanksgiving holiday. Orders placed Nov 22-23 will ship on Cyber Monday.
We need to thank Steve Guttenberg for his fantastic review last month. Site traffic spiked that week, crippling my blogging time as I pitched in to help with production. That overtime taught me a painful lesson in October–don't touch aluminum splinters!
DPC Latency
Saving you from the long string of events which led to this discovery, this story is brought to you in part by a buggy new office PC and hours of Googling…
If you've spent any considerable amount of time listening to music from your computer, you've probably heard glitches in the form of a pop or brief "looped" playback. Although increasingly rare, these problems are not extinct.
Pops and glitches don't exemplify reference grade audio, and a hardcore audiophile doesn't even listen to music from a computer. But that's beside the point. Most of you do use your computer for music listening from time to time, and it would be nice to understand why these glitches occur.
Fortunately, Thesycon offers a tool to measure DPC Latency in real time. DPC Latency is essentially a number which can indicate how much time has elapsed since the soundcard (or DAC) last received a packet of audio data. If too much time goes by before the next audio packet is sent, the sound system has a digital heart attack. It skips a beat and loops whatever audio data was last received.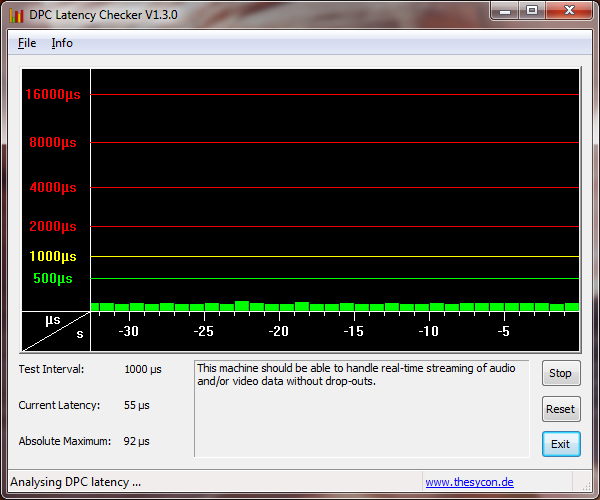 Thesycon says that DPC latency below 500µs is sufficient for "real-time streaming of audio and/or video without drop-outs". Next time you hear audio stuttering, you can measure the effect as you experiment with solutions.