** Scheduled Maintenance: We're moving our server tomorrow night at 1:00AM CST, Saturday, July 14th. Anticipated downtime is 1-4 hours. JDSLabs.com may be difficult to access in some parts of the world for the next 24-48 hours while our new IP address propagates. **
CNC Experiments
Nick has spent the past three weeks making noise, breaking drill bits, and splashing super fun blue coolant all over the office. Most people don't pick up mechanical engineering and machining as new "skills" in just three weeks, but we do what we have to here.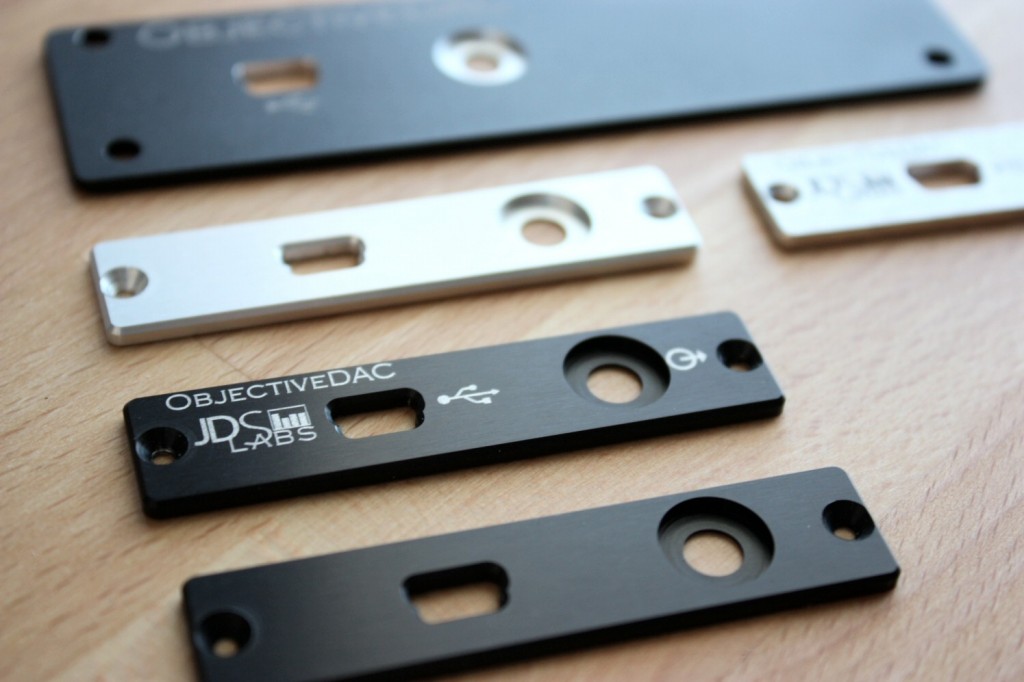 With the basics of CNC'ing out of the way, our attention has turned back to the reason we bought the CNC in the the first place. We want brilliant quality, and we want our parts now.
We've specified brushed aluminum on our endplates since they were first designed. It turns out that most aluminum suppliers do not offer brushing. The process is a time consuming and challenging task even for most machine shops. That was a disappointing discovery!
Our endplates will still be brushed, but this sourcing realization led us to experiment with the aluminum. The test pieces shown above were machined at our shop on Friday afternoon, then plated on Monday morning in downtown St. Louis. Clear alodine and black anodizing finishes both look fantastic. And it was all done in under 2 business days. 🙂
O2+ODAC Rear Panel with 3.5mm Output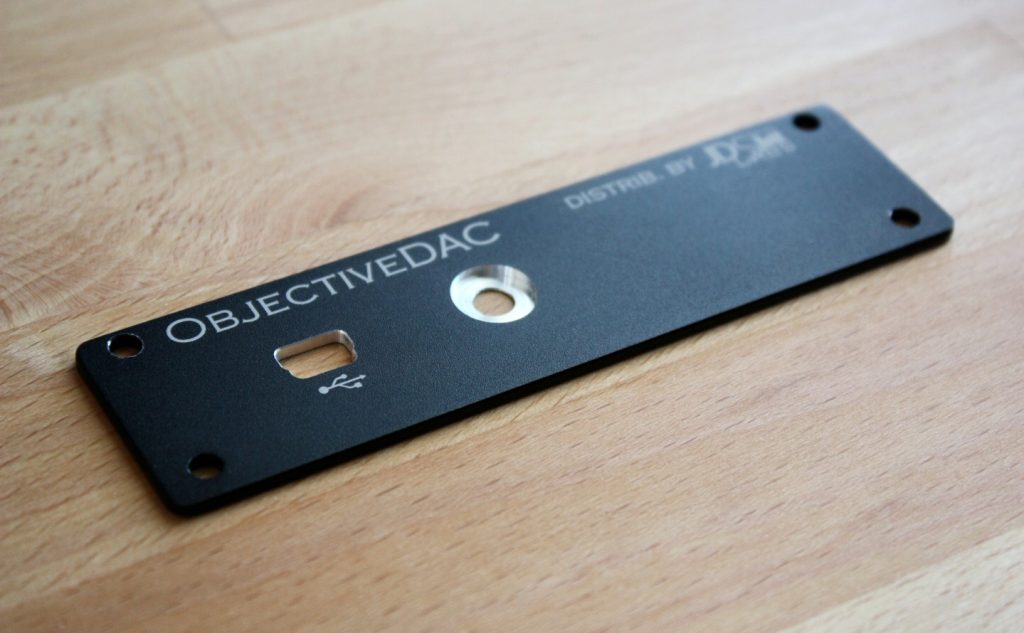 Although we don't recommend that you install a 3.5mm output jack on your O2+ODAC, some customers have requested to do so anyway. This is for you: Machined O2+ODAC Endplate w/3.5mm output. These are made from stock endplates included with the Box B2-080 cases, thus, the price is lower than other endplates.
RCA Jacks for ODAC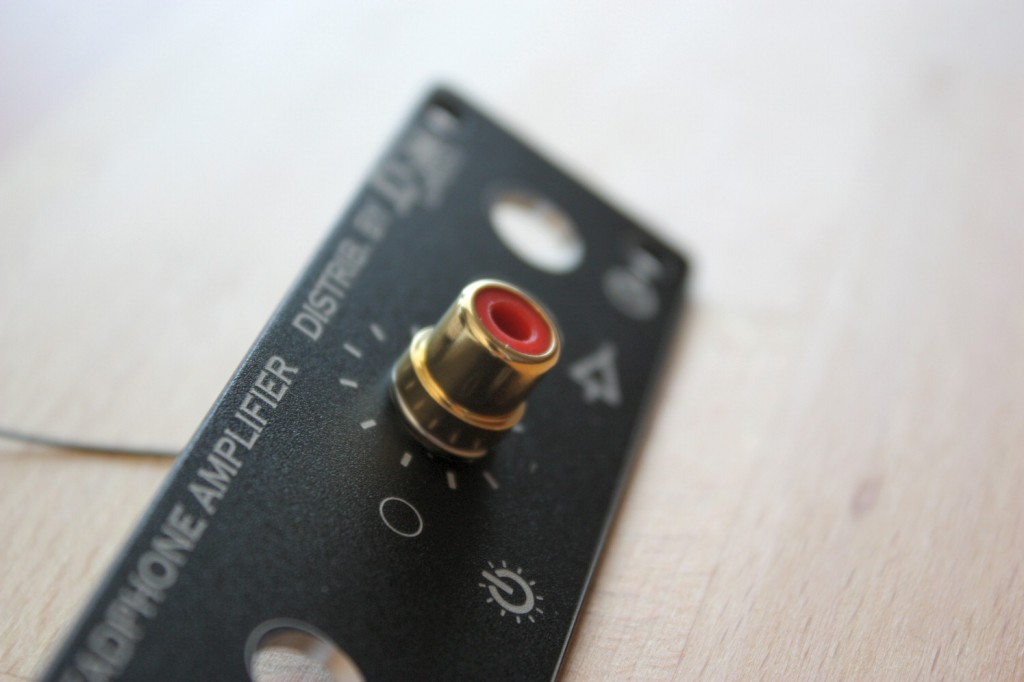 Okay, this isn't an ODAC or even a reasonable device. But it is a proof of concept for our Standalone ODAC w/RCA outputs.
We've avoided RCA outputs on the Standalone ODAC for several reasons. RCA jacks take longer to assemble and cost more than a 3.5mm jack, but this has been irrelevant to our decision.
We haven't offered RCA jacks on the ODAC due to virtually identical performance: Why complicate a product with multiple variations and increased build cost at no benefit? The 3.5mm jack on the ODAC circuit board is wired to the same line output header as used by RCA jacks. Some customers have asked, "Aren't 3.5mm cables more lossy than RCA?". As NwAvGuy has stated, characteristic impedance is a non-issue in unbalanced audio systems. There are no impedance mismatches to be concerned with, and there are no significant losses resulting from the use of a 3.5mm cable. Crosstalk might change negligibly (1-3dB), but overall, it's a myth that RCA cables are less lossy than 3.5mm cords. Case in point, why would NwAvGuy (an audio benchmark and measurement fanatic) have designed the ODAC with a 3.5mm jack if it were "lossy"? He wouldn't have! I'm sure NwAvGuy can provide benchmarks if badgered.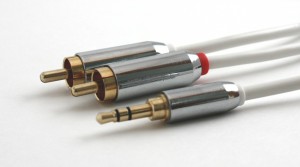 Moreover, you can use a common 3.5mm to RCA cable for direct connection of a 3.5mm device to an RCA device.
With all of that said, it's easier to build products customers want, than to convince everyone that what we're building is the best solution.
So last week we set out to fit RCA jacks into our Standalone ODAC enclosure. I had briefly collaborated with Stefan of Head 'n' HiFi earlier this year on the Standalone ODAC case. We'd been asked by NwAvGuy's contractor to lead the design and distribution of a standardized ODAC case for the DIY community. I wanted ultimate enclosure quality, and was willing to wait until late July for a custom case fabricated in the USA.
However, Stefan wanted cases immediately, and didn't think he could fit RCA jacks into our thin case, with only 10mm to work with (a typical RCA jack is 9.5mm). Stefan's a nice guy, but we had to agree to disagree on our design goals. Product excellence is more important than expedited delivery and cost, especially when a product will stick around for years to come.
Despite the tiny clearance, we've managed to design ODAC endplates that will accept 2x RCA jacks and still fit into our thin ODAC enclosure, without losing ground isolation. This is only possible due to a beautiful, black anodized finish. More pictures are coming soon. For now, imagine the gold RCA jack pictured above on our Standalone ODAC.
ODACs are scheduled to arrive July 19-25. All Standalone ODACs will ship by the end of July.