EL DAC II+ Balanced pairs with EL Amp II+ Balanced, running on our latest XMOS based UAC2 engine with ASIO support for both PCM and DSD. Its balanced outputs are in addition to single-ended RCA outputs, giving you the flexibility to connect to any amplifier.

Firmware
EL DAC II+ Balanced arrives loaded with our latest firmware branch v2.1.0, with support for all major operating systems:
Version 2.1.0 is a complete overhaul containing updated core USB and I2C libraries, improved USB host error handling, faster mode detection, auto S/PDIF emphasis, and general improvements to master clock handling.
Please Note: EL DAC II+ Balanced requires different harmonic tuning values compared to the default EL DAC II+. Tuning values are defined in firmware. While it's safe to install EL DAC II+ firmware on an EL DAC II+ Balanced or vice-versa, doing so will alter tuning. All DACs ship with latest firmware, meaning no updates are necessary upon delivery.
Performance
Adding balanced outputs to EL DAC II+ leaves performance similar to the default version, with a slight increase in SINAD via the TRS outputs.
| | |
| --- | --- |
| | EL DAC II+ Balanced |
| Frequency Response, 20Hz-20kHz | +/- 0.12dB |
| SINAD @ 1kHz, 20-22.4kHz, TRS Output | > 113 dB |
| THD+N, 20Hz-20kHz | < 0.0004% |
| SNR, 20Hz-20kHz | > 120 dB |
| IMD CCIF, 19/20 kHz -6 dBFS | -115 dB |
| Noise, A-Weighted | -110 dBV |
| Dynamic Range, AES17, A-Weighted | 122 dB |
| Linearity Error -90 dBFS | +/-0.02 dB |
| Crosstalk, 1kHz, 100k Input | -122 dB @ 200k |
| USB Jitter Components @ 12kHz | -129 dB |
| Maximum Single-Ended Output (RCA) | 2 VRMS |
| Maximum Balanced Output (TRS) | 4 VRMS |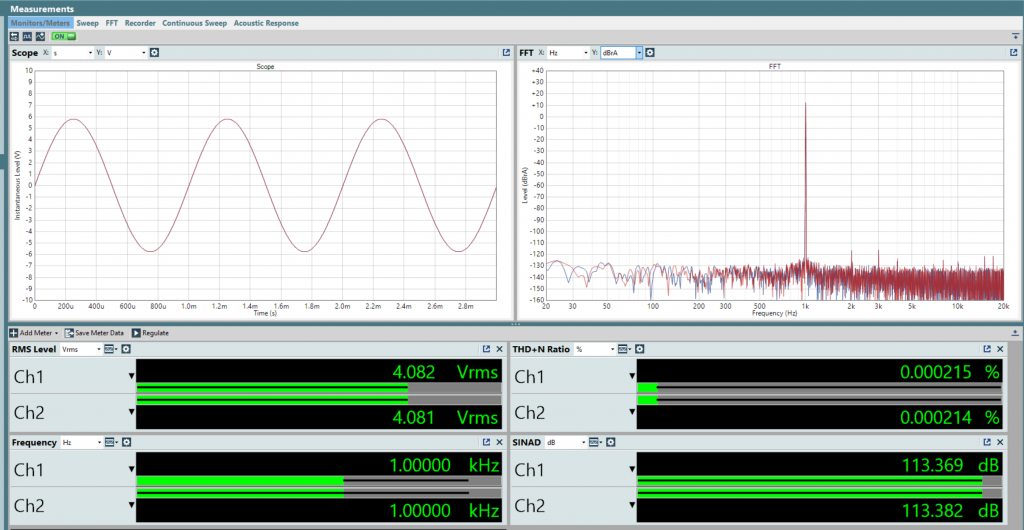 As noted above, THD compensation is tuned for the Balanced TRS Outputs, meaning RCA Outputs perform a few dB differently in terms of SINAD (inaudible!). If you intend to use the RCA Outputs exclusively, optimal THD tuning can be set by loading v2.1.0 firmware for the default EL DAC II+.
Availability
EL DAC II+ Balanced can be found in the dropdown options menu on the EL DAC II+ page. Inventory is limited, with more arriving in June!