Element III manufacturing has been challenging, to say the least. We were ecstatic to release Element III and pleased to see a strong reception from customers all over the world. Thank you! Then a few things went frustratingly wrong. Like knobs which arrived wobbly or broken, or DACs which threw error codes upon arrival (yes, we tested!). This absolutely did not match our vision, and understandably, we lost the trust of some customers.
This post was intended to be shared sooner, alas, manufacturing and shipping improvements evolved over the past two months during which time we fully expected faster, complete resolution. During April, around 93% of Element IIIs arrived safely: 93% may be a A-, but Quality means delivering 100% of products fully functional, reliable, and as advertised. Delivering 100% is our goal and I'm sorry we fell short.
We've been working closely with our suppliers to remove weak points, while simultaneously strengthening our own quality control processes to ensure Element IIIs arrive safely and run reliably. Below explains what went wrong, and how Element III manufacturing is back to 100%.
Edit: As some have asked, yes, all Element IIIs shipping from jdslabs.com after June 2nd, 2022 are built with all improvements described below.
Knob Alignment
The majority of of Element IIIs have arrived with properly mounted knobs, but some arrived wobbling as demonstrated below. Please reach out if you haven't done so already and we'll be glad to help.
Good Knob – Element III's knob should spin like this:
Damaged Knob Shaft – The knob should not wobble like this:
Please keep in mind the large knob is intended to be gripped or turned by the sides, as you would with any large stereo or washing machine knob. Intentionally wiggling or touching along the top edge ("scrubbing") will reveal tilt from most large knobs. This is expected. Wobble shown above is not expected.
Understanding & Improving Alignment
We rejected several knobs during the first week of assembly. Video clips were documented and shared with staff for future reference. Later in the month, the same concerns began appearing in support requests.
We initially believed our internal Q/C team had failed to reject misalignment during assembly. We added more eyes to final knob inspection and ultimately learned several factors were involved. In chronological order of our understanding:
Shaft tolerance changed from Element II to Element III, causing some knobs fit too tightly, and others to fit too loosely. Incorrect fit leads to non-perpendicularity (i.e., wobble). While we have years of experience with the tight tolerance design, the change in tolerance pushed the limits of manufacturability.
Some knobs from the tail end of the first batch were machined out of spec, meaning the knob itself was not flat or perpendicular. Too much trust had been placed in repeatability of the robotic machining process, with insufficient quality checkpoints. We rejected the majority of off-spec knobs, and failed to catch all during the batch transition.
Customer attempts to bend the knob into better alignment had the opposite effect: the shaft bent, causing worse wobble.
Insufficient packaging: High demand and packaging delays depleted our inventory of Element packaging with foam supports. Our shipping team briefly resorted to a box with cardboard inserts which had historically been used for palletized Element shipments. Within days, we learned this box did little to protect Element III's knob.
The Encoder manufacturer had positioned a silicon grommet at the upper base of the aluminum shaft, requiring a narrower shaft diameter. The original shaft was specified to withstand up to 8kg = 17 lbs of axial bending force upon Element's knob, which was interpreted as a safe value. Well, this proved to be the key point of weakness. Despite the knob weighing only 50g, there was occasionally enough acceleration applied to packages in UPS and FedEx shipping networks to exceed the force limit and bend the shaft.
We respond to setbacks immediately, and either correct, or halt shipping until we can confidently deliver. By the second large wave of Element III shipments, our team was confident that every knob was well aligned at the time of departure. When some feedback was still unsatisfactory, we lost confidence that Element III could be safely delivered. And thus, we ceased shipping Element IIIs in recent weeks to resolve the root cause.
In response, we scrapped the original encoder and made the following changes:
Revised Encoders

The shaft has been redesigned to better withstand bending forces from accidental drops, rough shipments, etc. (see below).
The shaft is now composed of stainless steel instead of aluminum for extra rigidity.
Shaft diameter is held to a tighter tolerance.

More Machining Q/C

Our machinists now check parts 5x more often in order to catch off-spec parts earlier in the manufacturing process. A 9-point checklist has been added specifically for knobs.
Knobs have been re-calibrated to suit the new encoders

More Assembly Q/C

Encoder shafts are sorted by diameter (+/- 0.01mm) and hand matched to knobs to ensure ideal fit.
Every Element III knob is spun and visually inspected for perpendicularity before final packaging. Misalignment is rejected.

Better Packaging

Foam support is required to keep the Element in place during rough shipments.
Additional foam has been added to each box to support the knob.
Electronics Manufacturing
The first two months of Element IIIs were electrically flawless. Our PCB assembly partners in Chicago X-Rayed every board and checked leadless packages for perfect solder adhesion. 100% passed at JDS Labs. No complaints!
Then in April, we began to catch failing boards during assembly. Some could not be programmed. Others failed to respond to knob activity, or had no USB signals, or no screen activity, or simply blinked a communication error code we'd programmed to signify a communication failure. We set the bad boards aside and assumed our contract manufacturer had changed their Q/C procedure. To my great dismay, a small number of customers began reporting similar problems as soon as their packages arrived–after passing full listening tests on our production floor! We arranged immediate replacements with prepaid labels wherever possible.
I called our engineering contact in Chicago and learned they had reduced the amount of solder paste at the processor in effort to maximize yield. They randomly sampled and X-Rayed only 25% of boards after the change, and because all samples passed, the entire batch had shipped with the expectation that some boards might be returned for rework. The "improvement" had resulted in the opposite effect: Yield decreased drastically.
The cause was obvious under a microscope. Some of the leadless XMOS processors exhibited marginal solder joints: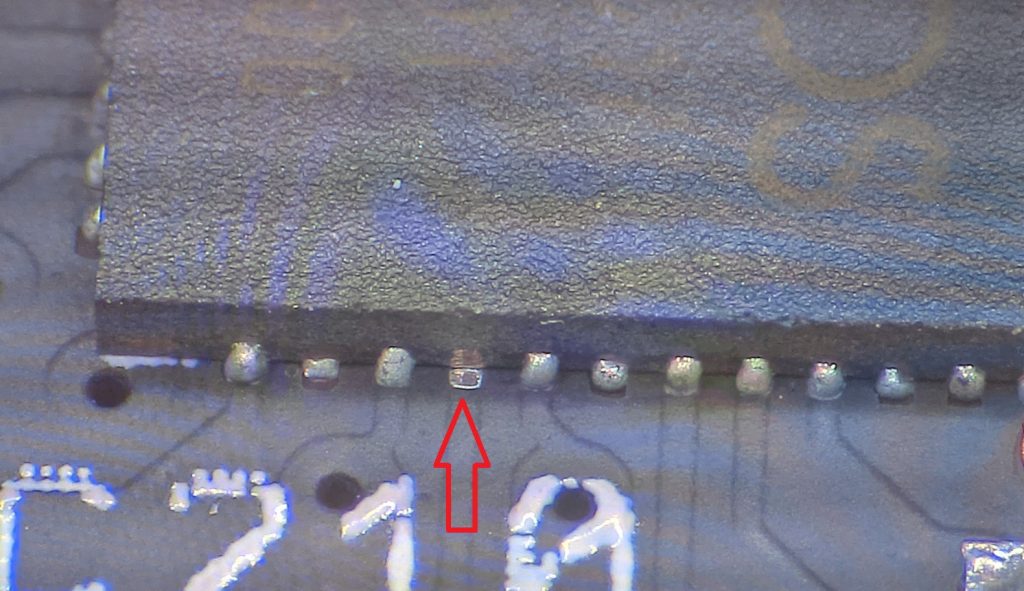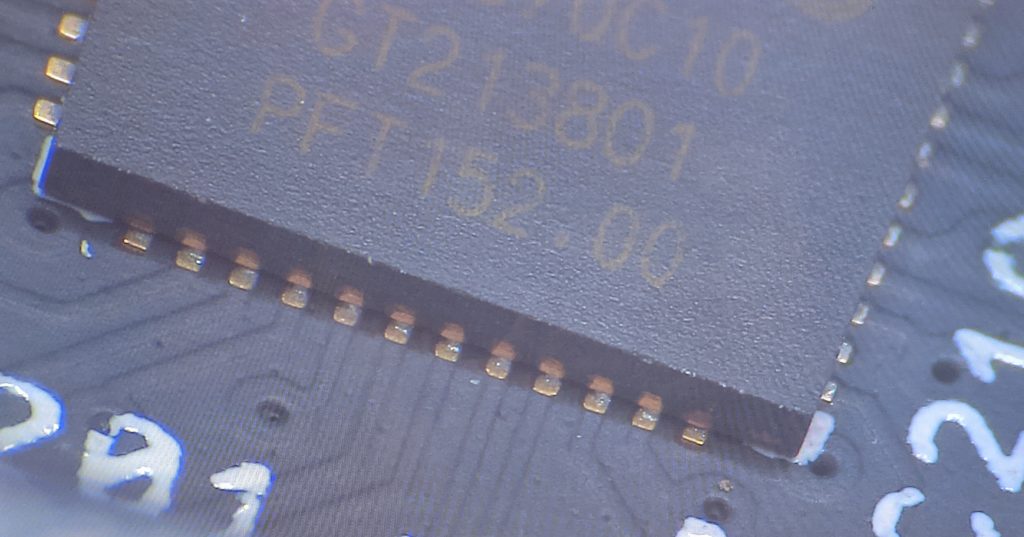 Improving Electronics Yield
Having lost trust in the batch, we rejected and returned every board for rework–passing or not. Every single processor pin was professionally reworked and inspected under magnification to ensure soldering integrity.
We also worked closely with our partners in Chicago to improve manufacturability of the June batch. Pads were made longer to better facilitate SMT reflow, touchup, and automated optical inspection.
Soldering on the June batch looks much better under magnification, and yield has been restored to 100%: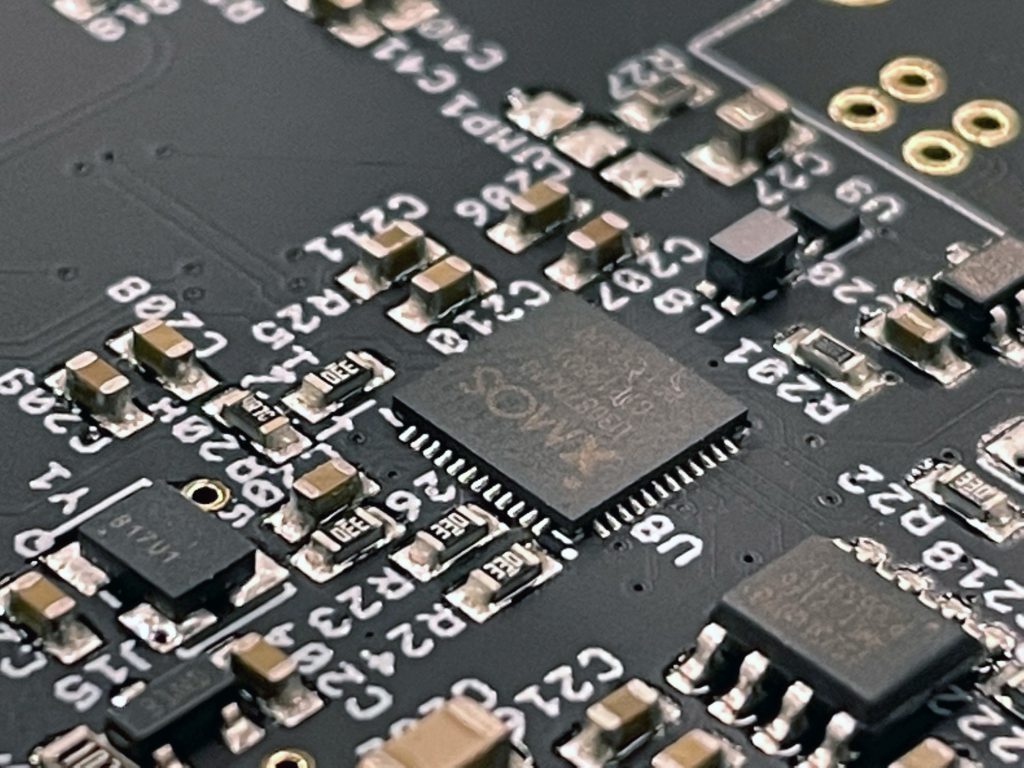 More importantly, our internal Q/C team has added a long-duration functional test. Every Element III is now required to pass a basic vibratory test and play music for several hours, in additional to complete functional testing. We continue to validate each batch on the ApX555 as well.
Summary
Element III is now built with a redesigned, stainless steel volume control shaft for improved ruggedness. Electronics yield is back to 100%, and we'll continue inspecting each amp/DAC rigorously.
We resumed shipping Element III two weeks ago and are pleased to report that all every shipment has arrived safely to customers in the US, Europe, and Asia.