Today we're pleased to present Element III MK2! Before diving into what has changed, let's clarify what MK2 means. This suffix distinguishes the "knob feel" of the original Element III from our latest hardware. The original Element III knob was designed for a loose and free spinning feel. Feedback from thousands of customers led us to make Element III better than ever: The redesigned MK2 knob feels tight, stable, and luxurious or "higher quality", as we've heard from lucky customers. It no longer wobbles.
Along with the physical upgrade, the latest firmware adds parametric bass and treble equalization, perfectly coordinated with Element III's auto volume and gain logic. Most importantly, the DSP cores have virtually no impact on THD, so tone adjustments sound glorious.
MK2 is best understood visually. Check it out, or read on!
We Built a Discrete Encoder
Last summer we upgraded Element III's encoder to improve strength. This change successfully prevented bent or broken shafts. Still, we found that many of you craved a firm knob shaft, devoid of any shaft play.
There are plenty of sturdy encoders on the market built for automotive applications, and there are numerous ways to create rugged encoders exceeding the cost of Element III. However, there are no low-wobble encoders on the market in the necessary form factor. Panasonic made one such option, but discontinued the part years ago.
In light of this, we scrapped the 9mm encoder and committed to building a stable knob on a precision shaft. The real challenge was accomplishing horizontal stability while also permitting vertical movement to facilitate EL3's pushbutton. After months of discussions and prototypes involving hundreds of washers, springs, bushings, bearings, buttons, motors, and shafts, we had a solid plan. Mechanically, the new design is dead simple, aside from a couple trade secrets.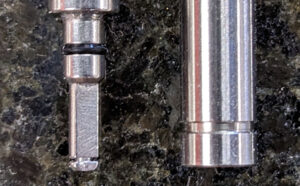 MK2's redesigned knob attaches to a precision machined, steel shaft. Fins on the underside of the knob pass through a pair of optical sensors to generate encoder pulses. The knob shaft rotates through a low-friction bushing, all resulting in smooth knob rotation, free of wobble.
If you happen to prefer a knob which spins loosely instead of firmly, yes, we can still do that as well (let us know in the Notes field during checkout). Please keep in mind that shaft play is the reason knobs may wobble.
As a byproduct of the mechanical redesign, LEDs are now positioned on the new optical sensor board with a more efficient light diffuser. This seemingly unimportant change reduces LED power consumption by 90%.
New Firmware: Parametric Tone Controls
We're thrilled to get back to our roots (for those who may not know, JDS Labs began with a bass boost circuit). Activating DSP cores in our firmware has long been on our agenda. I originally opened an internal ticket to explore a bass boost button and the computational power it required. Our programming team was unsure that the XU208 had the necessary resources. Running DSP demands computational power, and the audio core was already quite busy. We weren't sure DSP would run, or if it did, would it glitch or distort? How would it sound?
Element III proved to be the perfect platform with its OLED interface and two untapped processor cores.

When I loaded the first DSP test firmware, it sounded different for sure, in a horribly distorted way. The analyzer showed a SINAD of only 18 and output full of harmonics 😂. My last experience with DSP was about 15 years ago, so armed with rusty knowledge, I revisited old FFT theory. We squashed the harmonics in record time. SINAD is at production levels even with DSP running.
DSP Implementation Details
Element III's Options Menu has been reorganized in firmware v2.5.0. You will find a new "DSP Config (USB)" submenu, allowing parametric adjustment of Bass and Treble. In other words, you can adjust headphone response to suit your taste, regardless of operating system, and without extra software.
Each equalizer band involves a parametric biquad filter, processing on a dedicated core in near real-time, with Q = 0.707. Average latency remains the same, with or without DSP filtering. In the five impulse response checks below, latency coincidentally tested higher with DSP Off. Impulse response time varies by a few milliseconds with each test, so do not take this too seriously.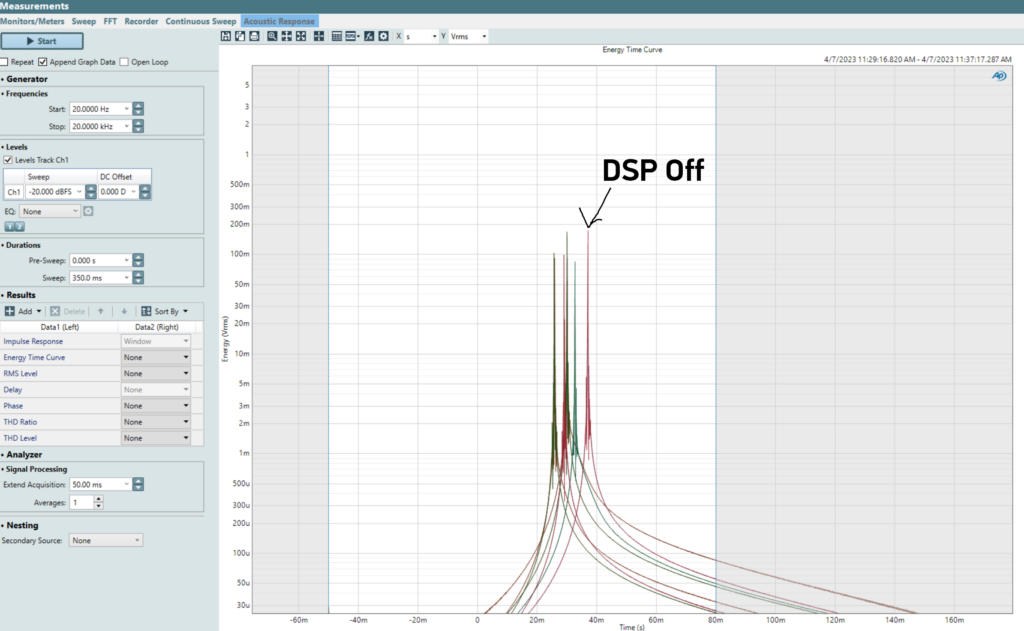 Element III performs subtractive equalization with automatic volume compensation, meaning it is impossible to clip the amplifier or overflow the DAC. You will notice an increase in the volume level readout when applying positive Bass/Treble Gain, which represents the effective signal volume. For example, if you typically listen at -30dB and apply 10dB of Bass, you will find yourself listening around -20dB.
Each band allows up to +/-30dB of gain adjustment at 8 possible frequency choices. We're now memory constrained, but have the option to compile different cutoff frequencies upon request:
Bass Frequencies: [40Hz, 60Hz, 80Hz, 100Hz, 110Hz, 125Hz, 150Hz, 170Hz]
Treble Frequencies: [3k, 4k, 6k, 8k, 9k, 10k, 12k, 14k]
DSP settings are stored separately for Headphone Output and RCA/Line Output, and the DSP cores are bypassed entirely when gain values are set to zero (default). You will also see "DSP Active" displayed when DSP cores are in-use.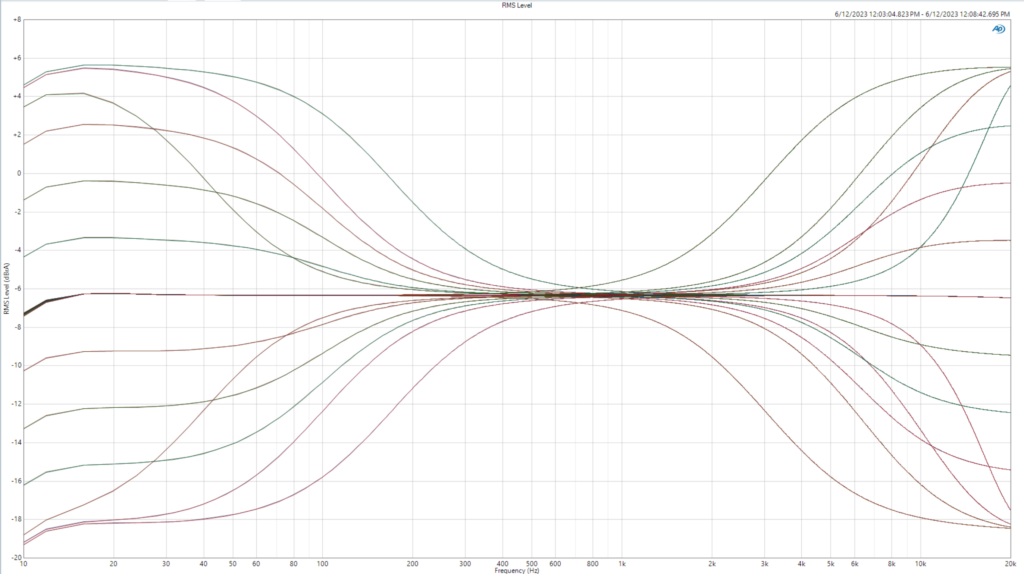 For now, DSP is supported for PCM playback over USB, for both UAC2 and UAC1. The DSP cores are bypassed when playing DSD, DoP, or S/PDIF streams.
We've been enjoying Element III's DSP for weeks. Headphones like Sennheiser HD-650, for example, have noticeable bass rolloff and come to life with a dose of bass boost. Below is a comment from our lead programmer. Such internal banter does not happen when we mindlessly chase specs:
"On a related note, I absolutely love the DSP feature. The boost tweaks on my setup make this easily the best sounding configuration I have at home."
We owe Rick many thanks for his firmware brilliance. Reaching this milestone took considerable time, analysis, and thousands of lines of code.
Firmware v2.5.1 is compatible with all Element IIIs: Download, Install, enjoy!

Availability
Element III MK2 ships now! We began shipping Element III MK2 in late-May while still wrapping up the new firmware. You can verify the exact version of a recent Element III by reading the 2D barcode found on the rear side (use any smartphone). MK2 contains PCB 3.09.
We believe equalization makes headphones more enjoyable, and want to share the new DSP firmware with as many Element III owners as possible. Please leave a comment, share the post, or click the Like button below.