JDS Labs Element III
We're incredibly pleased to present Element III. This is no ordinary refresh. Rather, we've reimagined our flagship amp+DAC to create a listening experience you will actually notice and appreciate.
Element III runs on our second generation XMOS hardware and firmware, blissfully integrated with a custom encoder. You'll hear perfect channel balance down to the black noise floor. Automatic gain helps you focus on listening rather than button pressing, and an auto vanishing display presents the essentials while you toggle between USB and Optical inputs, and headphone or preamp outputs. We've also added DSD support and real-time selection of DAC filters and more.
Element III remains precision machined in the USA with the same, famously awesome knob.

What We Did Not Build
Our roadmap prior to the AKM factory fire called for a chipset refresh of Element II to be released as Element II+. No changes to this goal were necessary even as AKM parts dried up. We'd tentatively planned around Cirrus Logic's CS43131 for the sake of increased DAC measurements (read: not better audio). With the risk of global semiconductor shortages in mind, we simultaneously prototyped an ESS variant. The Cirrus required some heavy lifting in initial firmware, and to our surprise, measured similarly to the ESS variant. But these Element II+ prototypes looked the same, functioned the same, and sounded the same as Element II.
Then Cirrus Logic's lead times doubled. Even if we had built the first batch with CS43131 chips, Element II+ would have faced a serious chip shortage 6 months later. So we cancelled Element II+, built a final batch of Element IIs with remaining AK4493s, and devoted more time to imagining a better Element: Something more fun, more useful, and audibly better.
To be abundantly clear, chasing SINAD for several years had led my ears to greater boredom with each design. I was relieved to hear DMS feels the same in his role as a reviewer. Increasing numbers looks great on paper, but even audio reviewers have grown bored with releases which bring nothing audibly advantageous to the table.
Element III happens to measure better, but that's not the point. Read on to understand how it audibly leapfrogs the previous generation.
Hardware Overview
Encoder and Channel Balance
No one complains about distortion or noise performance these days. We're finally comfortable moving to digital attenuation because Element III's noise, distortion, and dynamic range performance are all exceptional. To put this into perspective, SINAD of Element III at its worst case gain matches that of an original Atom Amp at its best case gain–and Atom Amp obviously had no DAC to limit it. Element III's noise floor is lower than Element II as well.
More simply, measurable performance is so high that analog potentiometers are the greatest enemy of high fidelity listening. Channel imbalance from an analog pot at a non-ideal position can ruin your listening, but you will not hear an improvement from SINAD much beyond 90 dB.
Channel balance of common analog potentiometers falters at around -25 dBFS. Our best hand matched pots achieve good balance to -40 dBFS (good, not perfect). Element III's channel balance is audibly perfect all the way down to -127.5 dBFS.
We custom designed Element III's encoder to approximate the rotational feel of previous Elements. It turns freely 360°, meaning no detents or stopping points.
Using Element III throughout development, I've found myself listening to music more quietly than ever before because of the fine resolution and balance achievable at low volumes–even discernable with 300 ohm headphones. You're not forced to boost volume to hear a decent soundstage.
For those mathematically curious, this article remains as relevant today as it was in 2011. Noise and dynamic range performance of DACs was a limiting factor then, and has come a long way in the past decade! In summary:
"If you want to be assured of silence with even the most sensitive IEMs, aim for –110 dBV [Noise]"
Edit: For anyone unsure of the impact of digital attenuation or "loss of bits", Monty of Xiph.org debunks a number of myths in his 2013 video, D/A and A/D | Digital Show and Tell.
Amplification and Power Stages
Element III uses DC coupling throughout and internal AC-to-DC rectification to feed low noise +/-15V linear regulators from its 16VAC transformer.
Rail-to-rail OPA1692s are used in the amplification gain stage for increased headroom. In addition to improved efficiency, High Gain performance is stunning. There is no distortion penalty to listen to Element III at high gain versus low gain: SINAD is identical either way. If you were to bypass the DAC and measure Element III's amplifier alone, you would find performance similar to EL Amp II+, but with even better High Gain performance.
Of course, automatic gain means you never need to consider which gain position to use. Element III handles this for you.
Please note Element III drops RCA Inputs. This choice was required to realize perfect channel balance via encoder and implement auto gain. We also understand that most Element owners exclusively use USB input, else, they invest in an EL Amp II+. We'd rather make the entire experience better than hold back the design.
OLED
We've long maintained that the best screen on an amplifier is no screen. This is true until moving to digital attenuation, or adding complex features which beg for visual feedback. Most support requests for Element II came from customers misunderstanding whether the amplifier was set to Headphone or RCA Output mode.
We added a screen to Element III out of necessity–it's not meant as a gimmick. The OLED appears while you interact, and then it powers down.
Great care went into OLED implementation. The screen is powered independently from Element III's audio supplies, and we've verified there is no impact on measurable performance whether the screen is on or off. Framerate is fixed at 33fps to avoid overuse of the serial bus. Firmware ensures the encoder and internal synchronization take precedence over the OLED.
Digital-to-Analog Conversion
The AK4493 has been replaced by an ES9018K2M with triple OPA1692s at its differential current-to-voltage (I/V) stage. These low noise opamps consume a fraction of the power of our usual JRC choices, albeit at a slightly higher cost. Improved I/V efficiency allows Element III to run with a similar thermal profile to Element II, despite 3x the analog circuitry.
As a general reminder, we do not choose DAC chips for marketing purposes. We evaluate ICs for suitability of end goals. A "more premium" ES9038 carries the same -120dB THD+N datasheet spec as the ES9018. Time and time again, we find the real work in making a DAC shine comes from tuning the output stage and supporting power circuitry.
Firmware
Our second generation XMOS firmware is a complete overhaul, with months of development having taken place to arrive at v2.0.9. At a high level:
Auto Gain – We regularly hear from customers fretting over when to use gain. Element III eliminates this confusion by automatically toggling gain for you at exactly the right volume level.
As you turn the knob beyond the 0 dBFS threshold, firmware automatically activates high gain (+13.5dB) and compensates volume (-13.5dB) for a near seamless transition.
It's difficult to appreciate the elegance of Auto Gain until you try it firsthand. This feature was a "maybe" in our development process, and became a "must have" as soon as we tried the proof of concept.
Options – Pressing the tactile volume control button for 3+ seconds enters the Options menu. Here you can customize OLED and backlighting LED behaviors and access tuning parameters of the ESS DAC. For now, DAC Filter, DPLL Bandwidth, S/PDIF De-Emphasis, and harmonic compensation are adjustable in real-time.
Hardware Volume Control – Breaking tradition, Element III is configured by default with USB Hardware Volume Control disabled. This choice is ideal for digital attenuation (and for PS5!). Windows 10/11 still provide mixer volume adjustment in this state, so this will become the default for all JDS Labs firmware moving forward.
UAC2 w/UAC1 Fallback – You can activate UAC1 mode with a Fallback Cable, useful for consoles.
Firmware Updates – Like our previous XMOS designs, Element III supports future firmware updates.  We welcome your requests as we continue to develop features.
Safety & Resilience – We've put months of listening time on Element III, with several playing in the office 24/7. Nevertheless, hardware life is full of surprises, like storms and brownouts, nasty ESD zaps, or maybe a bad firmware update.
The XMOS sends a heartbeat signal with error checking every 100ms. The boot processor listens for the heartbeat signal and the pair automatically self correct upon any inconsistency. And for extra safety, Element III continuously monitors volume level of the ESS DAC for read/write success. Hardware FCC & CE Compliance testing passed on the first attempt.
Last, each XMOS chip is burned with a factory 'master' image. If you manage to corrupt the upgrade slot, there is always fallback to factory code.
Huge thanks to Rick for months of creativity and agile debugging! To fellow developers, below is a visualization of the firmware repository as Element III came to life:
Drivers
Our latest XMOS v5.30 drivers are ready for Element III. While no drivers are required by Win10/11, installing the optional drivers enables all PCM bitrates, DSD 64 & DSD 128 support, an ASIO endpoint, and the ability to adjust USB buffer length.
No drivers are required for macOS, Linux, Android, or iOS.
Performance
Measurements were taken on our ApX555 analyzer with 22.4k bandwidth, LPF = ADC passband, HPF = AC coupling, and 300 ohm load, unless otherwise noted. We conducted measurements by both USB and S/PDIF inputs and recorded a single result as long as both modes measured within the margin of error.
| | | |
| --- | --- | --- |
| | Element II | Element III |
| Frequency Response 20-20kHz | +/- 0.13 dB | +/- 0.11 dB |
| SINAD, 1kHz Low Gain | 106.5 dB | 112.5 dB |
| SINAD, 1kHz High Gain | 91.6 dB | 112 dB |
| SINAD, 1kHz 50mV | 81 dB | 85 dB |
| THD+N Sweep 20-20kHz | < 0.0012% | < 0.0004% |
| IMD CCIF 19/20 kHz -6 dBFS | -101 dB | -101 dB |
| IMD SMPTE, -20dBFS | -95 dB | -95 dB |
| Signal to Noise Ratio | 113 dB | 117.7 dB |
| Noise Level @ 0 dBFS | -109 dBV | -112 dBV |
| Dynamic Range (A-Weighted) | 116 dB | 120 dB |
| Linearity Error, -90 dBFS | -0.09 dB | -0.01 dB |
| Crosstalk 0 dBFS, 100K RCA | -118 dB | -130 dB |
| Jitter Components – USB @ 12kHz | -127 dB | -131 dB |
| Jitter Components – S/PDIF @ 12kHz | n/a | -130 dB |
| Channel Balance @ -25 dBFS | +/- 0.56 dB | +/- 0.01 dB |
| Output Impedance | < 0.7 Ω | < 0.7 Ω |
| Max Continuous Power @ 600 Ω | 141 mW (9.21 VRMS) | |
| Max Continuous Power @ 150 Ω | 566 mW (9.21 VRMS) | |
| Max Continuous Power @ 32 Ω | 1.3 W (6.53 VRMS) | 1.3 W (6.43 VRMS) |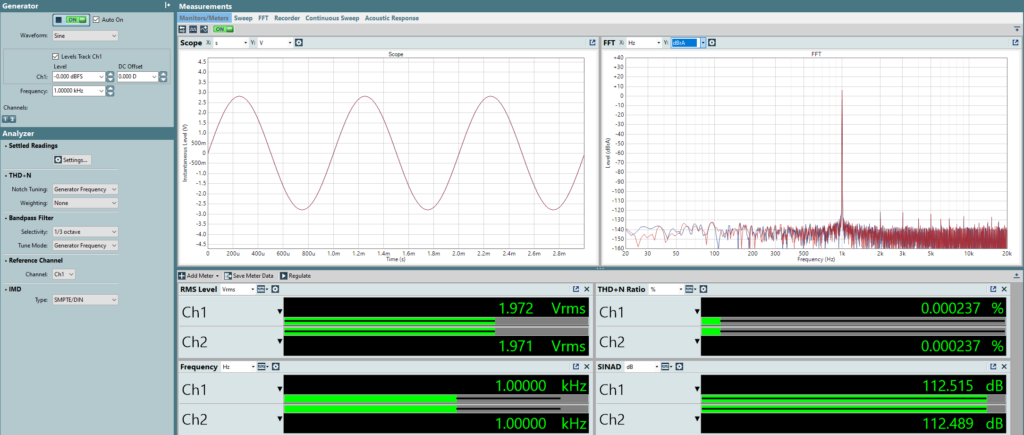 Element III outperforms an Element II by about 15 dB in High Gain, exhibiting essentially no distortion penalty relative to Low gain: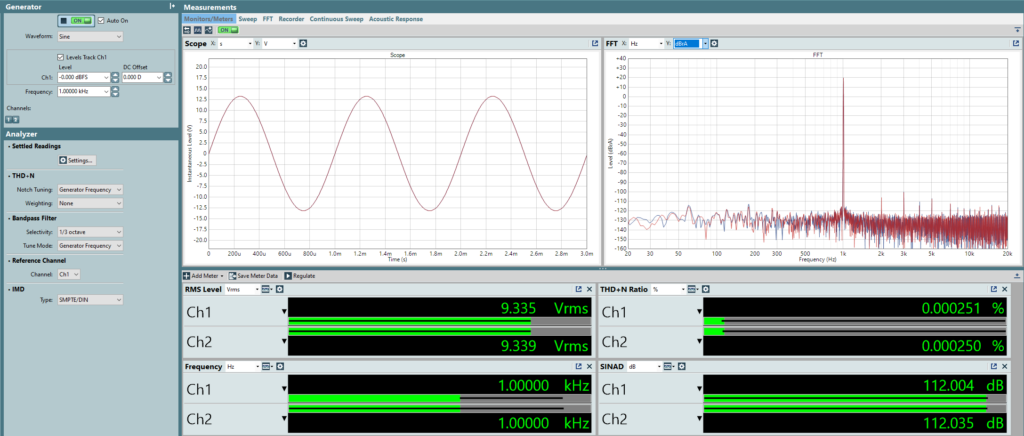 Element II was consistently praised for its black background even at full volume with popular IEMs. Element III's noise floor is lower than ever and dynamic range is even higher, meaning digital attenuation is a worry free experience.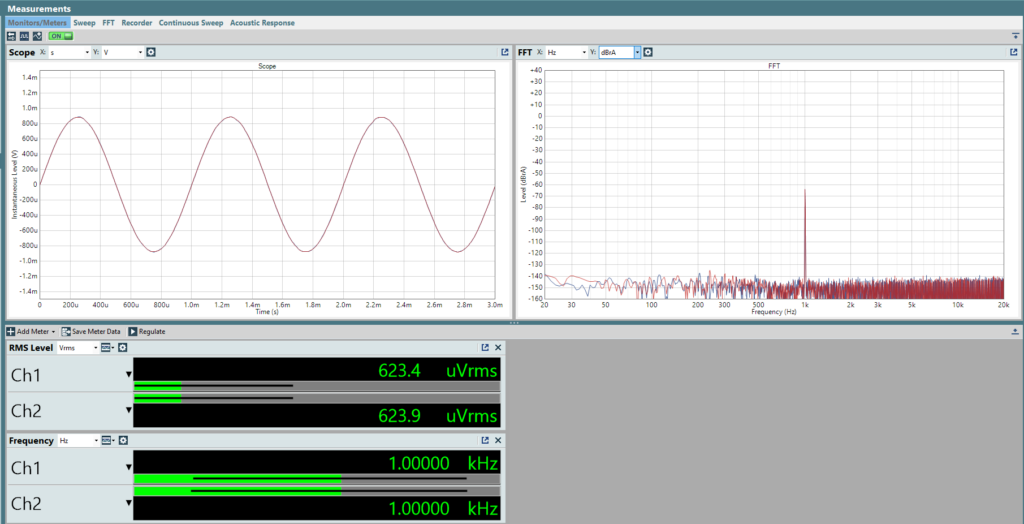 Availability
Element III is In Stock and ships today! Samples are also arriving at several reviewers this morning.
---
8-Feb-2022 Update: The first batch of Element IIIs has sold out due to incredible demand. We appreciate the positive response from first adopters!
The second batch is in progress and backorders will ship as soon as enclosures return from anodizing. We recommended ordering now to reserve your position in the shipping queue, as the second batch is sized similarly to the first.