JDS Labs Element II
The Element is a timeless mechanical design which has remained in demand for over four years with only minor electronics improvements. While we could keep building the same, we're excited to share more of our best work.
Element II has been re-engineered as the flagship JDS Labs amp+DAC and amplifier. If you've been looking for a metal version of Atom Amp, Element II adopts the core amplifier technology in a CNC milled, aluminum chassis. Preamp RCA outputs are button controlled, so you can use the large knob to adjust your speakers without disconnecting cables.
Of matching caliber, Element II destroys digital-to-analog performance of the previous generation. An XMOS USB controller and MEMS oscillator improve jitter by two orders of magnitude, and the AK4493EQ DAC pushes dynamic range and THD+N to impressive levels.
Hardware Overview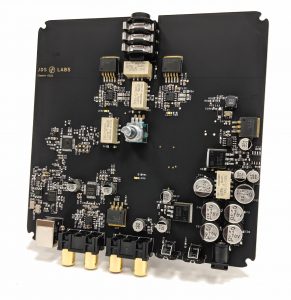 Amplification and Power Stages
Element II is DC coupled throughout, relying on +/-15VDC rails derived from internal AC rectification with 50% more input capacitance and lower ripple compared to the first generation. The amplifier and USB DAC are both powered by an external 16VAC 1000mA transformer. Element II runs safely warmer than Element, as expected from powering its own DAC (no more USB power).
Amplification circuitry and PCB layout are inspired by Atom Amp, with greater PCB surface area dedicated to amplifier thermal relief. Higher noise tolerance NJR opamps are utilized in the voltage gain stage, along with thin film resistors for tighter channel matching. In short, this means less variation from one assembly to another.
The amplifier accepts up to 2.2VRMS at high gain of 4.73x, with headroom for Element II's 2.0VRMS DAC. Low gain is set to unity (1.0x) for sensitive headphones. Volume is controlled by an Alps 9mm potentiometer with optimal 15A taper.
Relays
Instead of mechanical switches, a microprocessor controls hardware muting, gain, and preamp output events.
Integrated Preamp
The Mode button allows you to easily toggle between headphones and RCA preamp output. Firmware forces Low Gain when entering preamp RCA output mode, and remembers your gain setting when returning to headphone mode.
DAC
Element II relies on an AK4493EQ for digital-to-analog conversion. We debated sticking with the popular AK4490EQ, but favored the small increase in dynamic range.
USB Input
Element II is the first JDS Labs DAC to utilize an XMOS XU208 based USB Audio Class 2 implementation, supporting up to 32/384kHz PCM.
The XU208 is clocked by an SiTime MEMS oscillator with phenomenally low jitter, outperforming the original Element by two-orders of magnitude. Jaw dropping. Can I hear it? Afraid not. But it remains technically impressive and we did not have to re-invent the wheel. I only regret not moving to XMOS sooner.
Element II ships with a custom 1m (3.2ft) USB cable equipped with a ferrite core for best EMC and noise performance. We have been using TDK ferrites to conduct in-house measurements for years, and find that jitter measurements are more repeatable from one system to another when doing so.
Firmware and Drivers
Element II uses all new firmware for both its microcontroller and USB stage. We enabled and verified DFU operation in the XMOS codebase, meaning Element II supports future USB controller updates.
No drivers are required by Windows 10 or modern version of Mac OS or Linux. You may optionally install Element II's XMOS driver for ASIO support. For now, Element II will rely on royalty-free XMOS drivers. If there is sufficient demand, additional features will be considered in the future.
Current versions of Android and iOS have also been tested successfully. Please note that UAC2 support varies with mobile devices (see FAQ).
Benchmarks
All tests are conducted with Elements II's supplied 16VAC 1A transformer and ferrite equipped USB cable, using XMOS release driver v4.13.0 under Windows 10, using a dScope Series III analyzer.
Power measurements are observed with a 32.4 ohm load at 100Hz and 1000 Hz for at least three minutes continuously, while maintaining < 0.0025% THD+N.
Amplifier Performance
| | | |
| --- | --- | --- |
| | Element | Element II |
| Frequency Response 10Hz-20kHz (192k) | +/- 0.1dB | +/- 0.02dB |
| THD+N 1Khz, 150 ohm | 0.0009% | 0.0008% |
| THD+N 20Hz-20kHz | < 0.003% | < 0.001% |
| IMD CCIF 19/20 kHz -6.03 dBFS | 0.0004% | 0.0001% |
| IMD SMPTE -6.03 dBFS | 0.0005% | 0.0005% |
| Noise (A-Weighted) | -108 dBu | -115 dBu |
| Crosstalk -10 dBFS 100K RCA | -67 dB | -88 dB |
| Output Impedance | 0.1 ohm | 0.1 ohm |
| Channel Balance | +/- 0.56 dB | +/- 0.56 dB |
| Max Continuous Output, 600 ohm | 140 mW (9.4VRMS) | 165 mW (9.9VRMS) |
| Max Continuous Output, 150 ohm | 505 mW | 656 mW |
| Max Continuous Output, 32 ohm | 1.1 W | 1.3 W |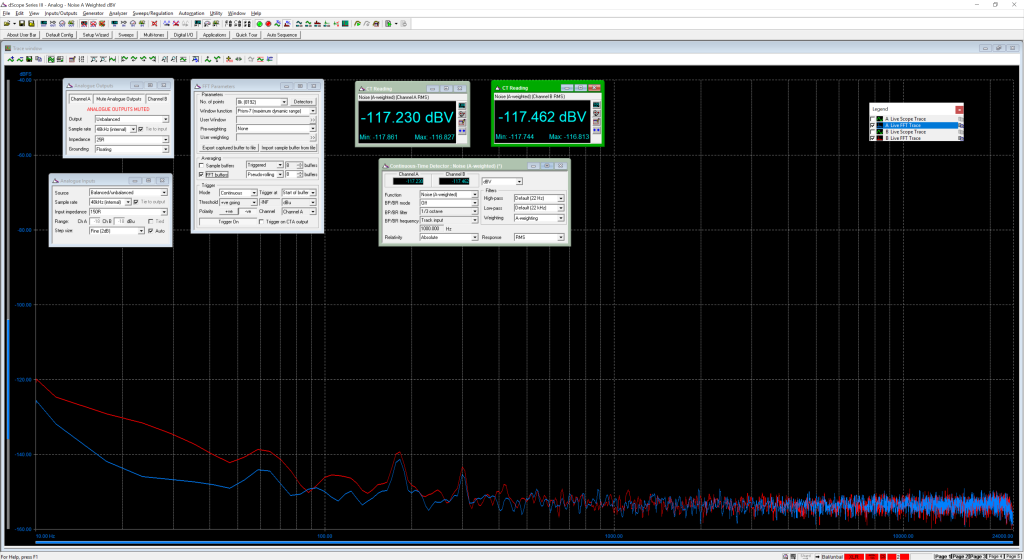 DAC Performance
| | | |
| --- | --- | --- |
| | Element | Element II |
| Frequency Response 10Hz-20kHz (192k) | +/- 0.15dB | +/- 0.13dB |
| THD+N 20Hz-20kHz | < 0.003% | < 0.001% |
| IMD CCIF 19/20 kHz -6.03 dBFS | 0.00110% | 0.00041% |
| IMD SMPTE -6.03 dBFS | 0.00120% | 0.00029% |
| Noise (A-Weighted) | -102 dBu | -109 dBu |
| Dynamic Range (A-Weighted) | 112 dB | 118 dB |
| Linearity Error -90 dBFS | -0.02 dB | 0.00 dB |
| Crosstalk -10 dBFS 100K RCA | -100 dB | -107 dB |
| USB Jitter Components 12kHz | -106 dB | -127 dB |
| | | |
| Features | | |
| Maximum DAC Line-Output, 100K | 2.1 VRMS | 2.0 VRMS |
| RCA Output | Line-Out (fixed) | Preamp-Out (adjustable) |
| Relay Muting | Yes | Yes |
| USB Controller | SA9023A | XMOS XU208 |
| D/A Converter | PCM5102A | AK4493EQ |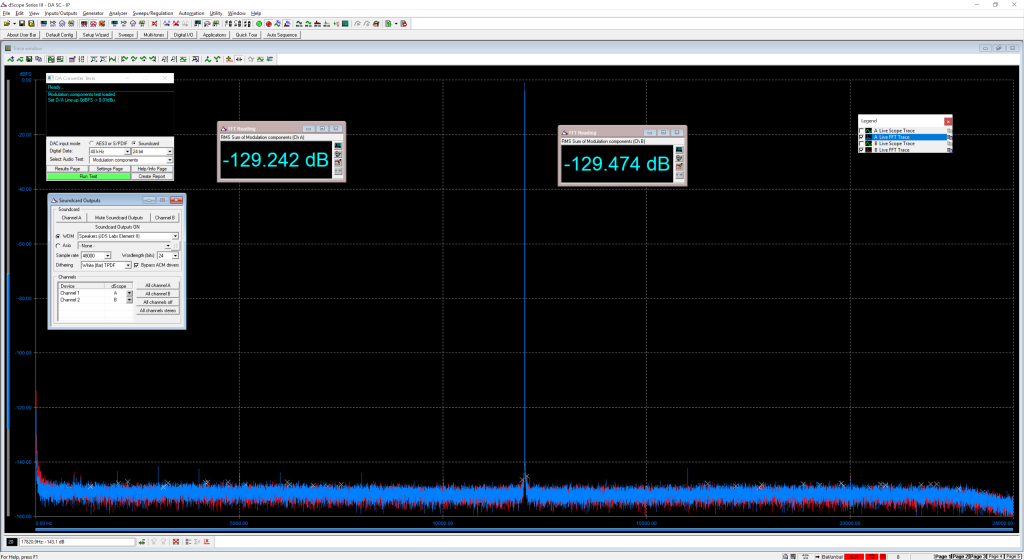 Prototyping Banter
Element II has been in the works for years and we've accumulated a box full of canned prototypes.
In fact, Atom Amp was derived from Element experiments. We'd tentatively planned Element II for a 2018 release, but I was frustrated by unimpressive performance gains, or worse, diminished performance, of early prototypes. At one point, analog input was accomplished through a costly ADC. I took a step back and checked our goals: (1) Enable preamp output, (2) Modernize the amp+DAC , and (3) Don't fix what's not broken. Focusing only on the top goal was the trick, and this led to a tangent we dubbed Atom Amp. The lessons learned from building Atom Amp were merged back into Element II.
Alas, Element II missed its first release in early 2019 due to EMC compliance failure. We had embarked on an idea that required a USB daughter-card, in order to simplify inventory and production batches. I knew it would be a risk for I2S to jump a ground plane. This choice was the first time we failed FCC and CE emissions checks. We returned to a single board and invested in a 1.5GHz spectrum analyzer to rapidly reach compliance. Thus, Element II debuts at version 2.11. 🙂
Reviews
Availability
Element II is in stock and ships today!