JDS Labs EL Amp II + EL DAC II
Our mission has always been to help you enjoy the world's best headphones. We know there is more to appreciating music than benchmarks alone, and the Element Line has been our outlet to create the system we want to hear, see, feel, and use. We're absolutely delighted to announce EL Amp II and EL DAC II. While you'll still recognize EL Amp II and EL DAC II at first glance, each has been internally refined.
EL DAC II gains relay muting, a custom XMOS USB controller with support for future firmware upgrades, a MEMS oscillator for even lower jitter, a higher performance S/PDIF controller and TOSLINK input, and an upgraded AK4493EQ DAC for greater dynamic range.
EL Amp II has been re-engineered as the flagship JDS Labs amplifier with improvements from its predecessor across the board. EL Amp II adopts the amplifier technology and performance you've come to expect from JDS Labs in a CNC milled, aluminum chassis. Preamp RCA outputs are button selected, so you can use the large knob to adjust your speakers without disconnecting cables. We've made EL Amp II more capable, more powerful, and more affordable.
Enjoy EL Amp II ($249) and EL DAC II ($299) as standalones, or stack them together for a full desktop audio system.
EL Amp II Overview
EL Amp II and Element II are built on the exact same circuit board, differentiated only by whether DAC components are populated onto the PCB.
EL Amp II is DC coupled throughout, relying on +/-15VDC rails derived from internal AC rectification with 50% more input capacitance and lower ripple compared to the first generation. By omitting the USB DAC, EL Amp II runs cooler than an Element II, and is otherwise the same in terms of design and performance. We expected a change in performance and found none aside from thermal behavior. Please see our Element II Release article for
Amplification circuitry and PCB layout are inspired by Atom Amp, with greater PCB surface area dedicated to amplifier thermal relief and ~15% greater output power. Higher noise tolerance NJR opamps are utilized in the voltage gain stage, along with thin film resistors for tighter channel matching. In short, this means less variation from one amp to another.
El Amp II accepts up to 2.2VRMS at high gain of 4.73x, well matched to EL DAC II's 2.0VRMS output. Low gain is set to unity (1.0x) for for sensitive headphones. Volume is controlled by an Alps 9mm potentiometer with optimal 15A taper.
Relays
Instead of mechanical switches, a microprocessor controls hardware muting, gain, and preamp output events.
Integrated Preamp
The Mode button allows you to easily toggle between headphones and RCA preamp output. Firmware smartly activates Low Gain when entering preamp RCA output mode, and remembers your gain setting when returning to headphone mode.
EL Amp II Performance
| | | |
| --- | --- | --- |
| | Element | EL Amp II |
| Frequency Response 10Hz-20kHz (192k) | +/- 0.1dB | +/- 0.02dB |
| THD+N 1Khz, 150 ohm | 0.0009% | 0.0008% |
| THD+N 20Hz-20kHz | < 0.003% | < 0.001% |
| IMD CCIF 19/20 kHz -6.03 dBFS | 0.0004% | 0.0001% |
| IMD SMPTE -6.03 dBFS | 0.0005% | 0.0005% |
| Noise (A-Weighted) | -108 dBu | -115 dBu |
| Crosstalk -10 dBFS 100K RCA | -67 dB | -88 dB |
| Output Impedance | 0.1 ohm | 0.1 ohm |
| Channel Balance | +/- 0.56 dB | +/- 0.56 dB |
| Max Continuous Output, 600 ohm | 140 mW (9.4VRMS) | 165 mW (9.9VRMS) |
| Max Continuous Output, 150 ohm | 505 mW | 656 mW |
| Max Continuous Output, 32 ohm | 1.1 W | 1.3 W |
---
EL DAC II Overview
EL DAC II uses the same power supply design as EL Amp II and Element II. Compared to its predecessor, EL DAC II improves across the board with:
Relay muting of its RCA outputs during mode changes and startup/shutdown
An upgraded AK4493EQ DAC for higher dynamic range
An upgraded S/PDIF Controller from AK4113 to AK4418
An upgraded TOSLINK input to improve jitter and THD
An asynchronous XMOS based USB Audio Class 2 Input
A MEMS oscillator for lower USB jitter
Support for upgradeable USB firmware
USB Stage
EL DAC II uses the same asynchronous XMOS XU208 based USB Audio Class 2 implementation as Element II, supporting up to 32/384kHz PCM.
The XU208 is clocked by a 24MHz SiTime MEMS oscillator with phenomenally low 10ppm jitter. While EL DAC's USB jitter was already impressive, the XMOS UAC2 implementation has safer default data stream buffering to reduce the likelihood of unexpected pops during playback.
EL DAC II ships with a 1m (3.2ft) USB cable equipped with a ferrite core for best EMC and noise performance.
Firmware and Drivers
Like Element II, EL DAC II uses all new firmware for both its microcontroller and USB stage. We enabled and verified DFU operation in the XMOS codebase to enable support for future USB firmware updates.
No drivers are required by Windows 10 or modern version of Mac OS or Linux. You may optionally install EL DAC II's XMOS drivers for ASIO support. For now, EL DAC II will rely on royalty-free XMOS drivers. If there is sufficient demand, additional features will be considered in the future.
Current versions of Android and iOS have also been tested successfully. Please note that UAC2 support varies with mobile devices (see FAQ).
EL DAC II Performance
| | | |
| --- | --- | --- |
| | EL DAC | EL DAC II |
| Frequency Response 10Hz-20kHz (192k) | +/- 0.15dB | +/- 0.13dB |
| THD+N 20Hz-20kHz | < 0.0011% | < 0.0010% |
| IMD CCIF 19/20 kHz -6.03 dBFS | 0.00017% | 0.00016% |
| IMD SMPTE -6.03 dBFS | 0.00061% | 0.00029% |
| Noise (A-Weighted) | -110 dBu | -110 dBu |
| Dynamic Range (A-Weighted) | 117 dB | 119 dB |
| Linearity Error -90 dBFS | -0.01 dB | -0.01 dB |
| Crosstalk -10 dBFS 100K RCA | -108 dB | -109 dB |
| USB Jitter Components 12kHz | -114 dB | -126 dB |
EL DAC II Features
| | | |
| --- | --- | --- |
| Maximum DAC Line-Output, 100K | 2.0 VRMS | 2.0 VRMS |
| RCA Output | Yes | Yes |
| Relay Muting | No | Yes |
| S/PDIF Controller | AK4113 | AK4118 |
| USB Controller | SA9227 | XMOS XU208 |
| D/AC Converter | AK4490EQ | AK4493EQ |
| Upgradeable Firmware | No | Yes |
| DSD Support* | No | Yes, DoP |
| Oscillator | CMOS Oscillator | SiTime MEMS |
*If you're reading closely, note that EL DAC II is the first JDS Labs DAC to support DSD-over-PCM. Full DSD support is possible via future driver update, if adequately requested. That said, jumping through the hoops of finding DSD tracks and software was enough to discourage our team from highlighting DoP. While it works, you are on your own regarding DSD/DoP software setup and configuration!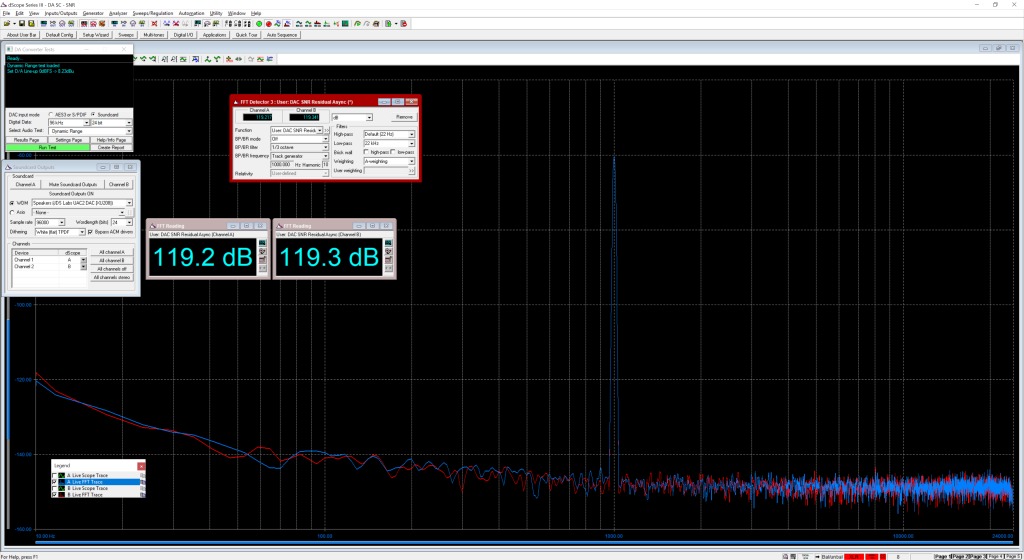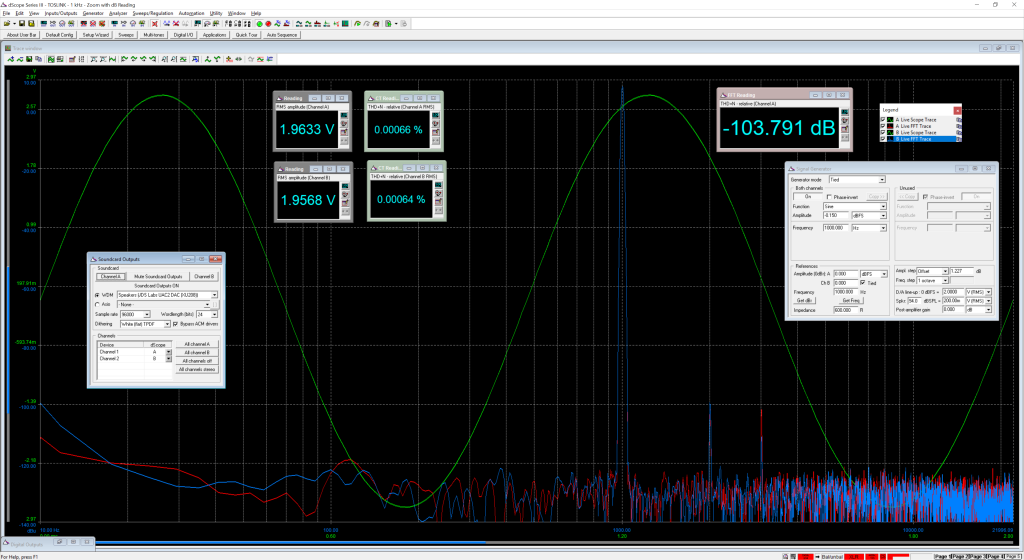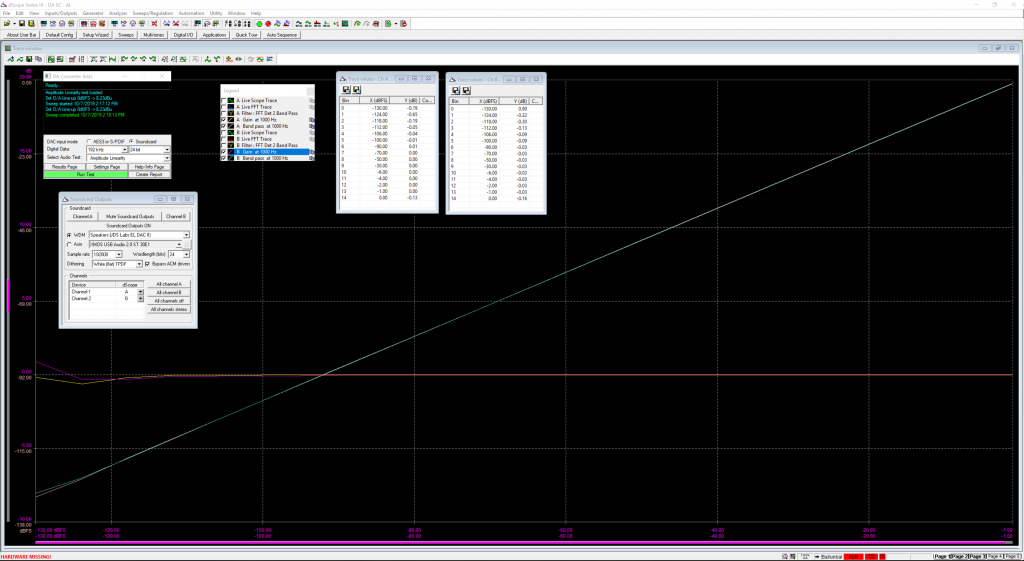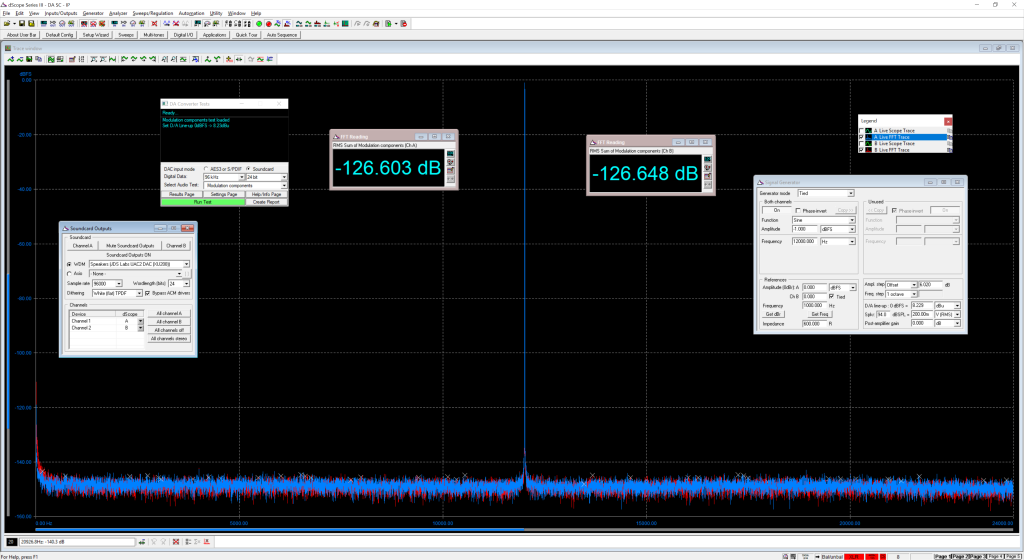 Reviews
Availability
EL DAC II and EL Amp II ship today! And because we're excited to share EL DAC II with you ahead of schedule, you can also find the original EL DAC discounted in the B-Stock section.