JDS Labs EL DAC II+
EL DAC II+ transitions EL DAC II from an AKM to an ESS chipset, building upon the same core feature set: relay muting, an XMOS based UAC2 engine, TOSLINK input, and transformer isolated coaxial S/PDIF input. The upgraded ESS chipset achieves higher performance and adds DSD128 support, and for those interested, EL DAC II+ accommodates an optional Bluetooth 5 module.
With massive excitement surrounding our new Element III, you may wonder why we are announcing EL DAC II+ afterwards. EL DAC II+ has actually been available at jdslabs.com for two months and our release scheduling is jumbled by a variety of delays–mainly anodizing, which delayed photography, and thus we postponed this announcement.
Element III or EL Stack?
Element III differs substantially from a separate EL Amp II+ and EL DAC II+, unlike the previous generation, which shared common hardware. We actively encourage Element III for those who need both an amp and a DAC.
Please see below for a high level comparison. EL DAC II+ makes sense if you require coaxial S/PDIF or Bluetooth 5 input, or perhaps if you already own an excellent amplifier and do not need a headphone amp.
Element III
EL Amp II+
EL DAC II+
Volume Control
Custom Encoder
Potentiometer, Alps 15A
n/a
Channel Balance
+/- 0.01 dB to -∞
+/- 0.56 dB @ -25 dBFS
+/- 0.01 dB to -∞
Auto Gain Toggling
Yes
No
n/a
OLED Display
Yes
No
No
DSD128 Support
Yes
n/a
Yes
UAC2 Support
Yes
n/a
Yes
Gain or I/V Stage
OPA1692
NJM5532
NJM5532
Outputs
1/4in Headphone,
preamp RCA
1/4in Headphone,
preamp RCA
RCA
Inputs
USB, TOSLINK
RCA
USB, TOSLINK, Coax,
optional BT5
Performance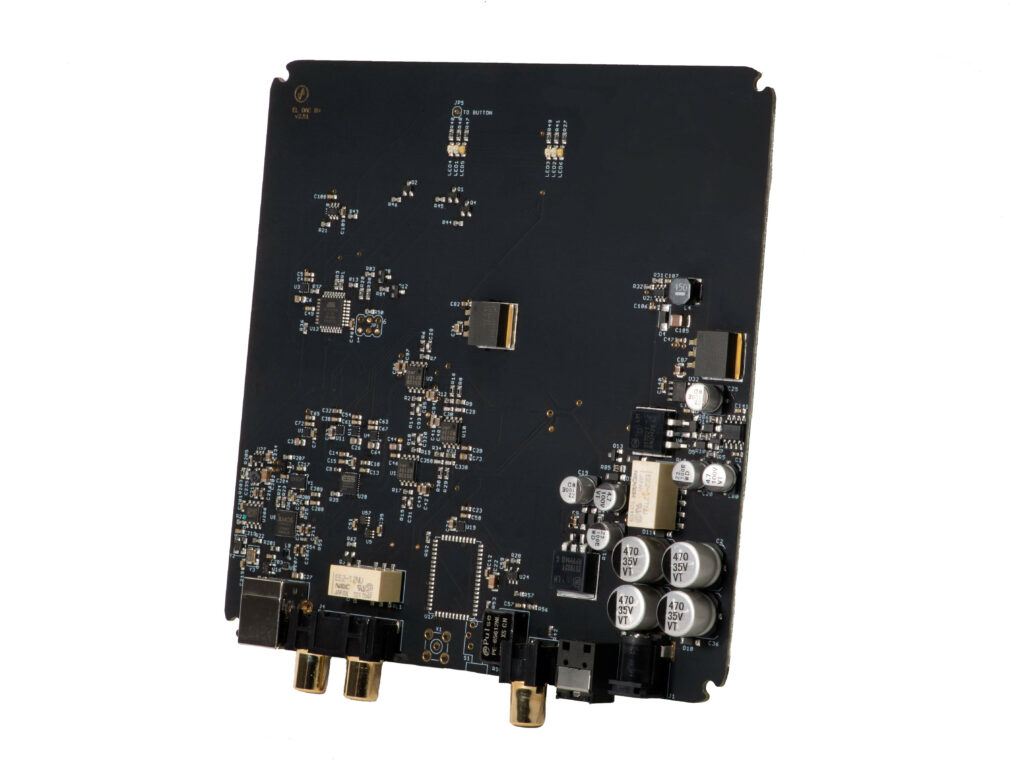 | | | |
| --- | --- | --- |
| Specification | EL DAC II | EL DAC II+ |
| Frequency Response 10Hz-20kHz | +/- 0.13 dB | +/- 0.12 dB |
| SINAD @ 1kHz | 106.5 dB | 112 dB |
| THD+N, 20Hz-20kHz | < 0.0010% | < 0.0004% |
| SNR, 20Hz-20kHz | > 114 dB | > 117 dB |
| IMD CCIF, 19/20 kHz -6 dBFS | -115 dB | -115 dB |
| Noise, A-Weighted | -112 dBV | -112 dBV |
| Dynamic Range, AES17, A-Weighted | 115 dB | 120 dB |
| Linearity Error -90 dBFS | -0.01 dB | -0.02 dB |
| Crosstalk, 1kHz, 100k Input | -109 dB | -132 dB |
| USB Jitter Components @ 12kHz | -126 dB | -130 dB |
| Maximum DAC Line-Output, 100K | 2 VRMS | 2 VRMS |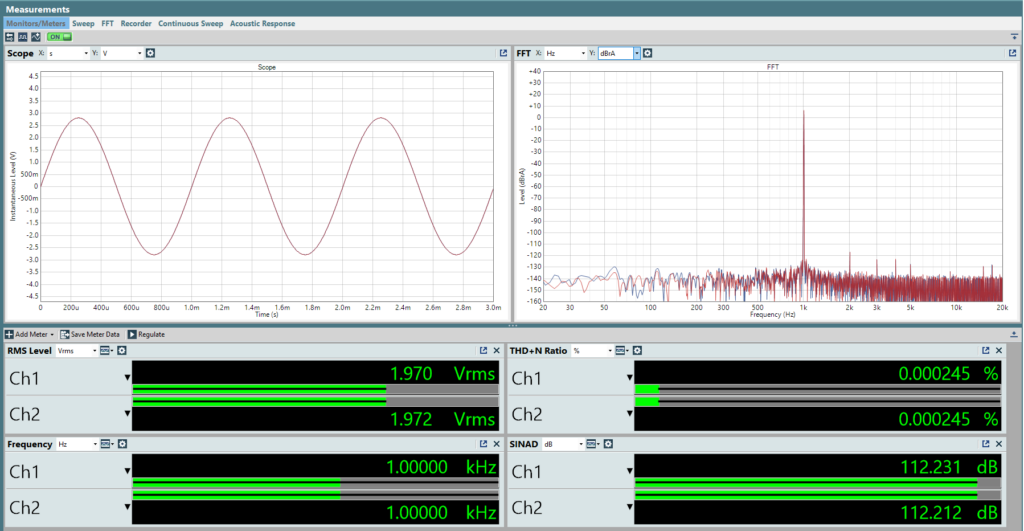 Optional Bluetooth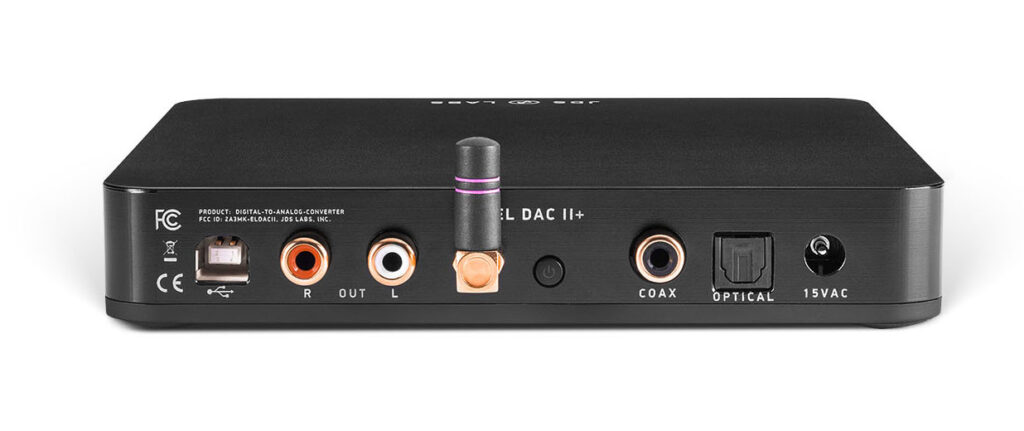 We understand Bluetooth 5 (BT5) is viewed either as awesome or useless depending on your stance in HiFi. We get it. BT is a lossy format. But it also has its place in home audio, as not everyone uses a PC these days.
We've prototyped several Bluetooth designs over the past few years. Each time we did, the module was obsolete before we entered production. EL DAC II+ is our first release with Bluetooth support because BT5 has  matured with enjoyable clarity via aptX HD. More importantly, it's fun to use and opens up the possibility of streaming from modern devices when you need to do so.
Implementation: The QCC3031 based Bluetooth 5.1 module feeds received digital audio directly to the DAC via S/PDIF. We've tried modules with I2S outputs in the past, and most lack their own I2S Master Clock signal, or have required re-clocking for other reasons. The ESS DAC's patented jitter recovery ensures maximum performance of the wireless transmission.
Compliance Testing: Announcing EL DAC II+ w/BT5 took longer than expected, as we chose to postpone enclosure manufacturing of the Bluetooth variant until the module was proven FCC/CE compliant.
Our usual compliance agency in Chicago politely returned 'No Quote', lacking equipment for proper 2.4GHz testing. We turned to another compliance agency in the US, who advised obtaining the BT5 module's CE certificate from the manufacturer. If the module was certified, compliance testing of the EL DAC II+ would be straightforward. Without module certification, the process would be long and arduous.
The module manufacturer replied, "Yes, it will pass CE compliance." Knowing full and well what this meant, and to avoid Yet Another Delay of what was intended as an optional feature for EL DAC II+, I requested, "Okay, please certify your module and we'll cover the cost." I'd already preformed pre-EMC scans at our facility and knew the module ran cleanly. In short, formal testing went well. The process was far more detailed and time consuming than non-radio equipped designs. Lesson learned: pre-certified modules are the way to go.
Firmware
EL DAC II+ currently ships with firmware v1.A.0, with a planned update to our v2.x code in the near future (the same codebase powering Element III will also run on EL DAC II+).
UAC2 w/UAC1 Fallback – You can activate UAC1 mode with a Fallback Cable, useful for consoles.
Firmware Updates – Like our other XMOS designs, EL DAC II+ supports future firmware updates.
Drivers
Our latest XMOS v5.30 drivers are ready for EL DAC II+. While no drivers are required by Win10/11, installing the optional drivers enables all PCM bitrates, DSD 64 & DSD 128 support, an ASIO endpoint, and the ability to adjust USB buffer length.
No drivers are required for macOS, Linux, Android, or iOS.
Availability
EL DAC II+ is In Stock now.