Okay, this post is in reply to our full email inbox this morning. Regarding NwAvGuy's upcoming ODAC:
JDS Labs is an official distributor of the ODAC
An ODAC preorder page is live
ODAC production began late last week in the USA, and will take about 4 weeks (release = May 2012)
NwAvGuy has not released specific information yet; we have little more information than what's already revealed in his blog [Edit 4/18/2012: Now Released]
ODAC absolutely requires a headphone amplifier for proper operation
I know many of you are looking forward to installing ODAC in your O2's, or having it retrofitted at our factory. (For those new to this project, three wires from ODAC must be soldered to input jack terminals P1 on the Objective2, a couple traces must be cut, and the 2x9V batteries must be removed.) A retrofit is a nightmare of a design choice for us. Sorry, NwAvGUy! Soldering one DAC is no big deal for a do-it-yourself'er, but we're faced with soldering hundreds. And that means hundreds of our past O2 customers might want to send their amps in for the upgrade. Cost for the O2+ODAC retrofit will be announced after ODAC is released. But we've devised a far more elegant solution.
Option 1: Standalone ODAC in Enclosure
NwAvGuy equipped ODAC with an optional 3.5mm line-output jack, for use with other headphone amps. It just so happens that ODAC fits into the same custom aluminum enclosure we built for c421. Nick sketched new end-plates, and voila: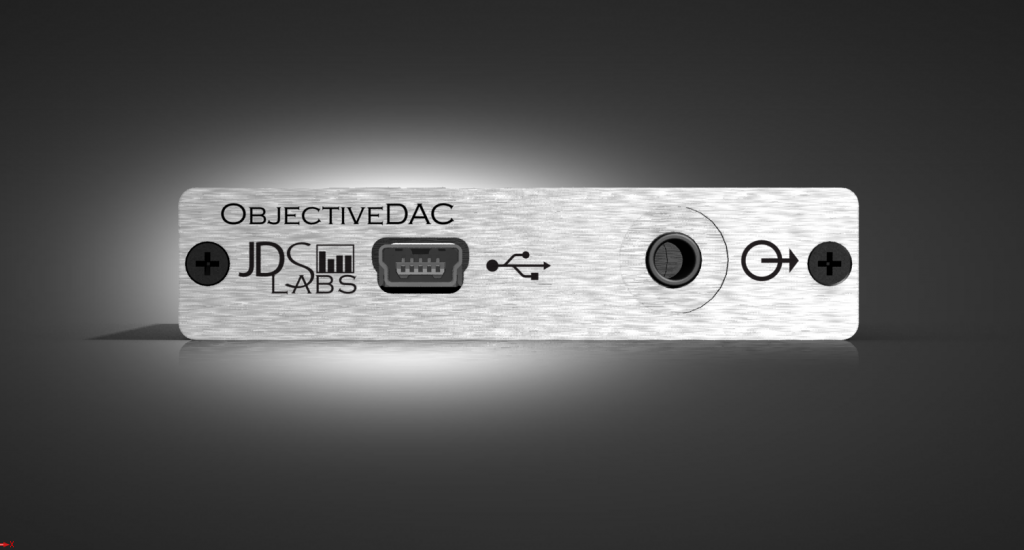 This is only a preview! We've printed prototypes and tested fit. Design files are now under review by our machine shop, so things could change based on manufacturability.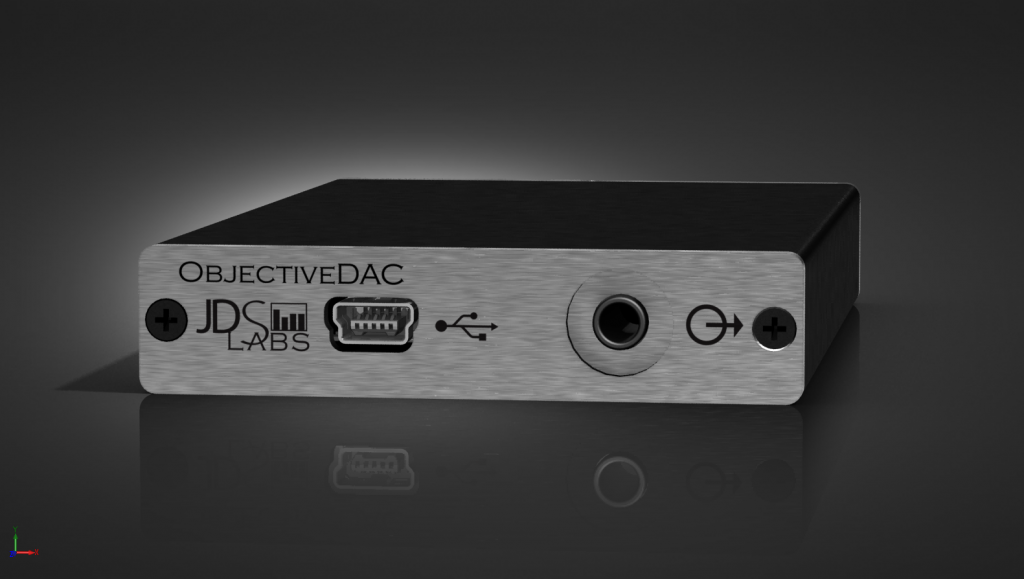 Placing ODAC in a standalone enclosure means:
Objective2 owners can add an ODAC without modifying their perfectly good amp
All features of the O2 are retained (no need to remove 9V batteries)
Standalone ODACs can be paired with any headphone amp!
Same performance as coupled to the O2
This standalone ODAC edition will be added to the preorder page as soon production begins–any day now. Available approximately upon release of ODAC.
Option 2: O2+ODAC Combo
As NwAvGuy plans, we'll offer ODAC preinstalled in new O2's, which will look something like this: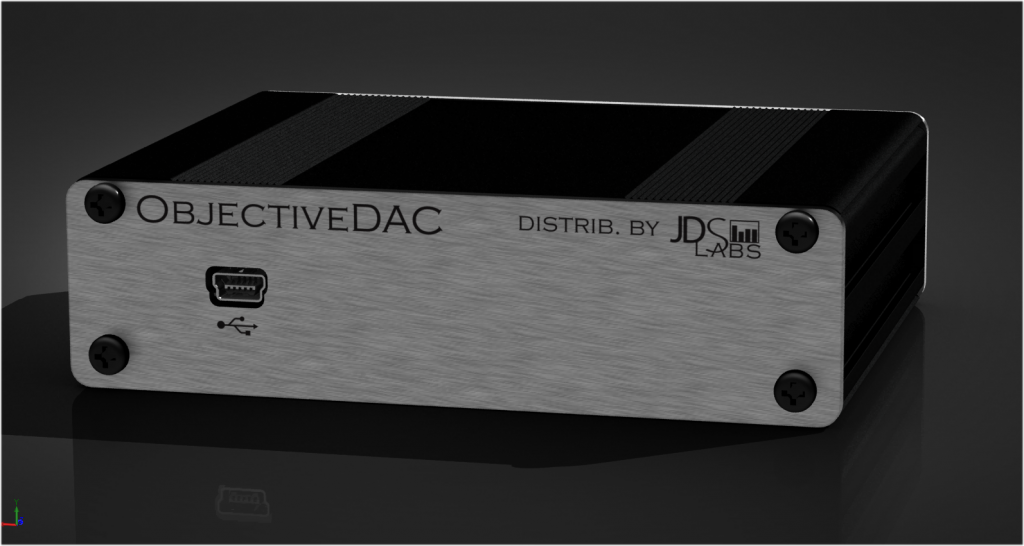 These will also appear on our preorder page after production begins. Available approximately upon release of ODAC.
Option 3: O2+ODAC Retrofit/Upgrade
Identical to option 2, but for those who already own an Objective2. Available in late May.
Option 4: Assembled ODAC PCB
Consists only of an assembled ODAC circuit board–no amplifier or enclosure. This is the only offering on our preorder page for now. Ships mid May.
ODAC SUMMARY
As you can see from the above images, the ODAC product lineup is well underway. All prices and preorder options will be available by the end of May.
A Note on Reviews
The first time I browsed to Headfonia.com, I couldn't imagine seeing our products on Mike's awesome review site. It was all high-end gear, way beyond anything we'd built at the time. So I was surprised when Mike e-mailed me for a cMoyBB sample in early 2011. The review went well.
Note: We are not a Headfonia sponsor. In fact, we don't sponsor or endorse any audio publications. I'd rather see our great products spread through the audio community by word of mouth, and use cash-flow instead to increase product development and distribution.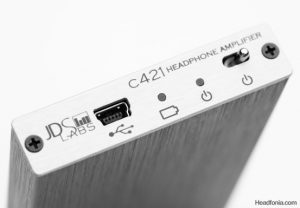 Anyway, Mike posted a well received review of our c421 last month, with the OPA2227. But he was quite opposed to the AD8620, totally contradicting my opinion.
Then came the controversial Objective2 review, which led to a follow-up article from NwAvGuy.
I'm not taking sides. I fully endorse NwAvGuy's work and his rebuttal, and I've always been a fan of Headfonia.
I personally prefer to listen to c421 with bass boost on, with DT-880's. I have nothing bad to say about the Objective2. It's a technically brilliant amp. But I'm a bass boost guy. Hence, cMoyBB.
The fact is, audio is subjective. NwAvGuy can post measurements and discuss psychological theory all day long, but we're humans. Our brains operate subjectively ("expectation bias", as NwAvGuy wrote).
Case in point, Nick says O2 and c421 sound the same. But Nick isn't an audiophile and doesn't spend his free time reading audio forums and reviews. He just knows that JDS Labs sells nice headphone amps.
I don't intend to discredit Mike or Headfonia. There's a lot of truth to what NwAvGuy writes, especially in regards to expectation bias. Mike e-mailed us after the O2 review went live; I replied explaining that I wasn't disappointed. He expresses his honest opinion in his reviews. NwAvGuy blogs about objective audio engineering. JDS Labs has to tie everything together. We build amps that we believe in, both in terms of design, and in terms of taste/expectation bias. We receive dozens of emails each week asking for comparison of one amp to another. While I could steer a customer one way or another, I sincerely avoid replying in depth to any of these messages.
Read reviews and blogs. Read specifications. Look at pictures. Borrow a friend's amp, or go to an audio meet. In the end, pick an amp that meets your needs and expectations.