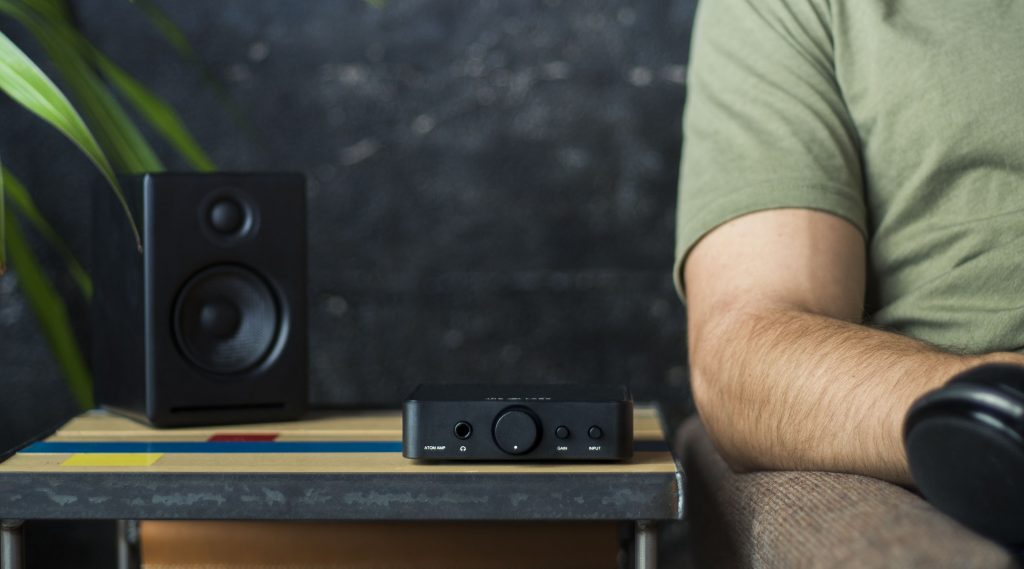 JDS Labs Atom Amp
JDS Labs has been the face of Objective audio throughout the decade. To us, making headphone listening enjoyable starts with honest designs in which measurements come first. Make no mistake: We do not create to be another car on a hype train, or for the sake of a predictable release schedule, or for revenue targets. Worthwhile releases must bring more to the table than specifications.
We're proud to share that Atom Amp is our new best amplifier. We built it to outperform Objective2 in every way: better specifications, greater power, higher reliability, and more input and output flexibility. Atom Amp ships standard with a 1/4in headphone jack, an integrated dual-input preamp (selectable RCA and 3.5mm inputs), and RCA preamp outputs. All controls are front mounted, and the knob is backlit so Atom Amp looks awesome on your desk. It's only $99 USD.
Hardware Overview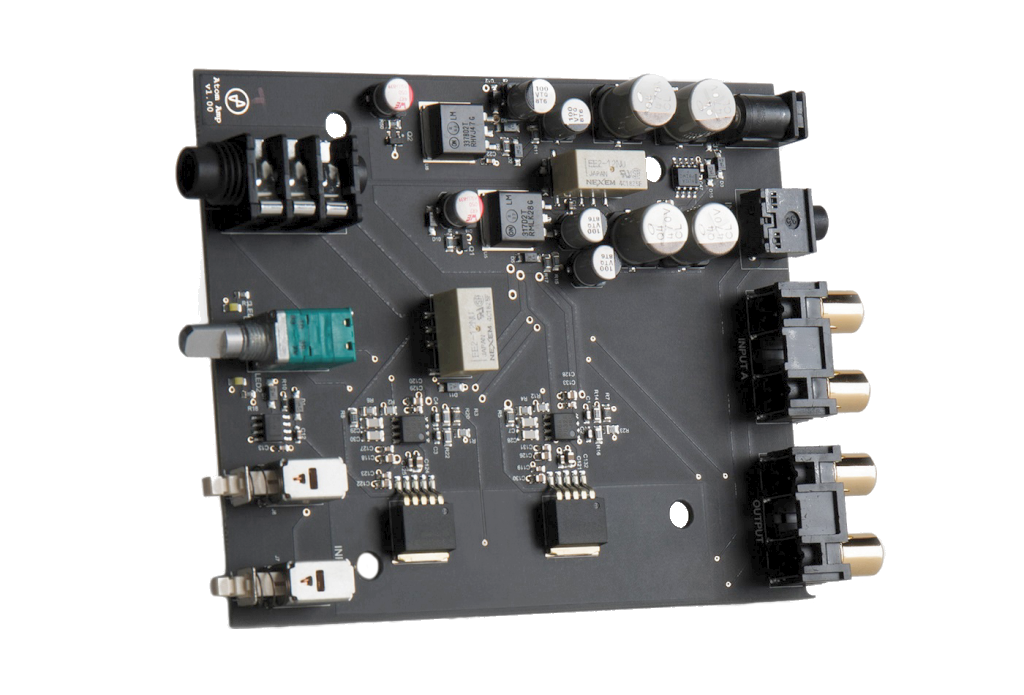 PCB Layout
Atom Amp adopts a new JDS Labs board layout philosophy. I ran into a wall with respect to noise performance of several prototypes last year. New circuits were measuring no better than older circuits using our standard PCB stackup.
To push performance to the next level, Atom Amp's AC rectification stage is physically isolated from its amplifier stage at the PCB level, like two boards in one. Linear DC rails and ground connect to the amplifier in a star fashion, improving noise performance by more than 10dB relative to ordinary 4-layer stackups.
Amplification Stage
Atom Amp is DC coupled throughout. It's been a long time since I encountered a source with DC offset. Consumer audio players are often AC coupled, and all JDS Labs DACs are DC coupled with insignificant DC offset.
The amplifier is powered by +/-15VDC rails derived from internal AC rectification. Our standard 15VAC 500mA transformer was suitable for most listening, but we're shipping Atom Amp with our larger 16VAC 1000mA supplies. The extra transformer capacity helps drive demanding sets.
Atom Amp's gain stage accepts up to 2.1VRMS input at high gain of 4.5x, or you may listen at unity gain (1.0x) with sensitive headphones. A custom Alps 9mm potentiometer with 15A taper ensures excellent channel balance. Clean output buffers deliver more power than a vast majority of listeners will ever need.
Relay Muting
Hardware relay muting enables audio output after a one second delay, to avoid startup pops and thumps. Muting applies to both the headphone output and preamp outputs.
Integrated Preamp
Atom Amp essentially replaces the need for pairing OL Switcher with Objective2. The Input button selects between RCA or 3.5mm input, so you can connect two different audio sources and switch between them as needed.
The RCA preamp outputs mute while headphones are connected. Output volume is controlled by Atom Amp's knob.
Benchmarks
Measurements were taken using RCA-to-BNC and TRS-to-BNC cables to a Prism dScope Series III Audio Analyzer. Atom Amp was powered by a JDS Labs 16VAC 1000mA transformer. Test load for all screenshots below is 150 ohms at 1.0x gain. We also conducted all measurements at 32 ohms and 600 ohms. As results are remarkably similar to look at, we'll leave further analysis to the community. Maximum output power is observed at high gain, of course.
| | | |
| --- | --- | --- |
| | Measurement | Unit |
| Frequency Response (20-20kHz) | +/- 0.01 | dB |
| THD+N (20-20kHz) 32 Ohms | < 0.0012 | % |
| THD 1kHz 32 Ohms | 0.0008 | % |
| IMD CCIF 19/20kHz | <0.0002 | % |
| IMD SMPTE | < 0.0005 | % |
| Noise (A-Weighted) | -114 | dBu |
| Max Output @ 32 Ohms | 1001 | mW |
| Max Output @ 150 Ohms | 502 | mW |
| Max Output @ 600 Ohm | 126 | mW |
| Output Impedance | 0.7 | ohm |
| Crosstalk (1kHz, 150 ohms) | -87 | dBu |
| Channel Balance (50% volume) | < 0.6 | dBu |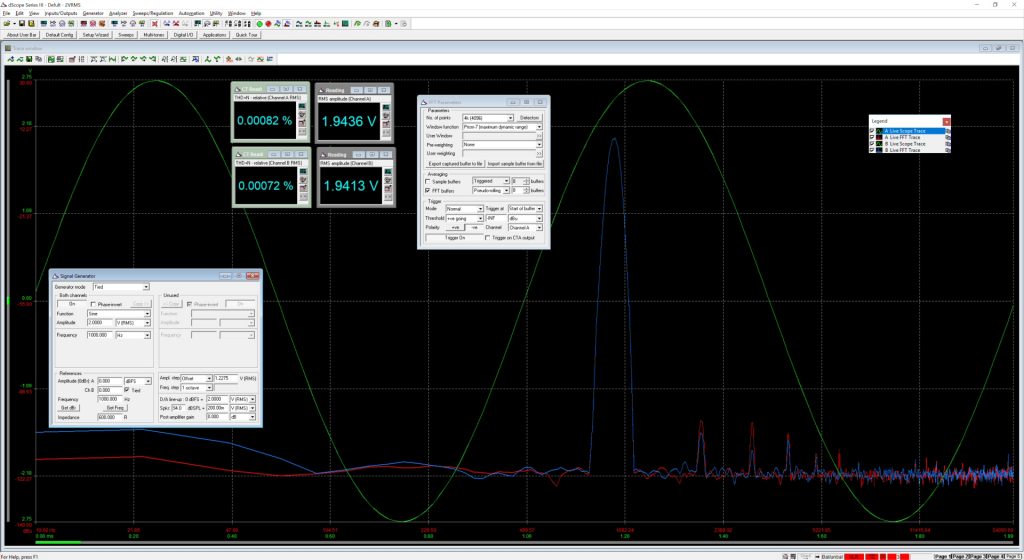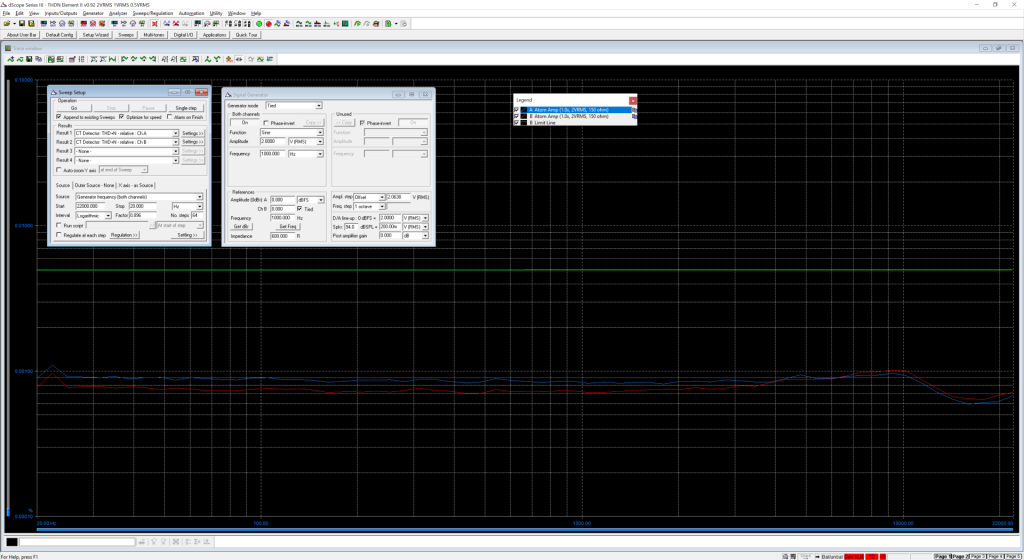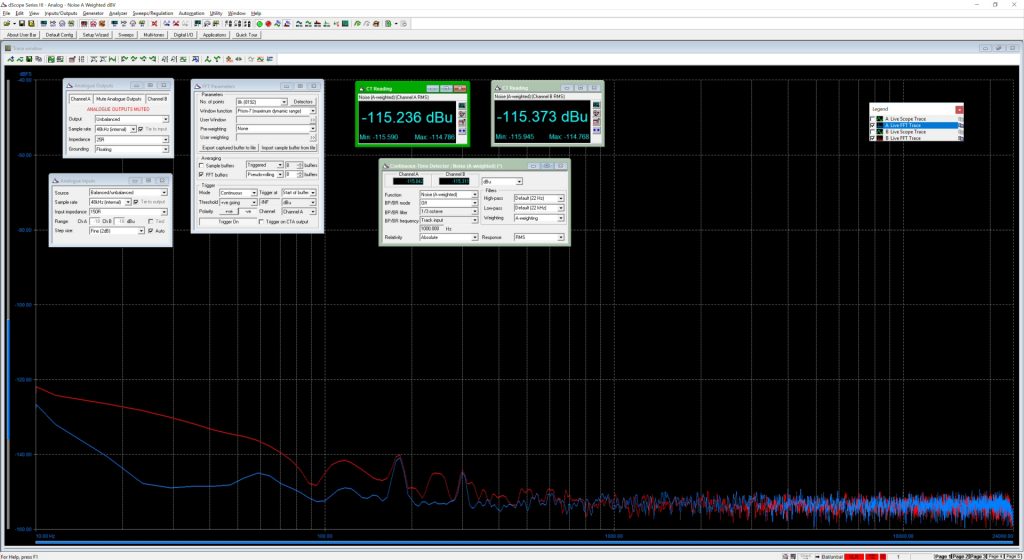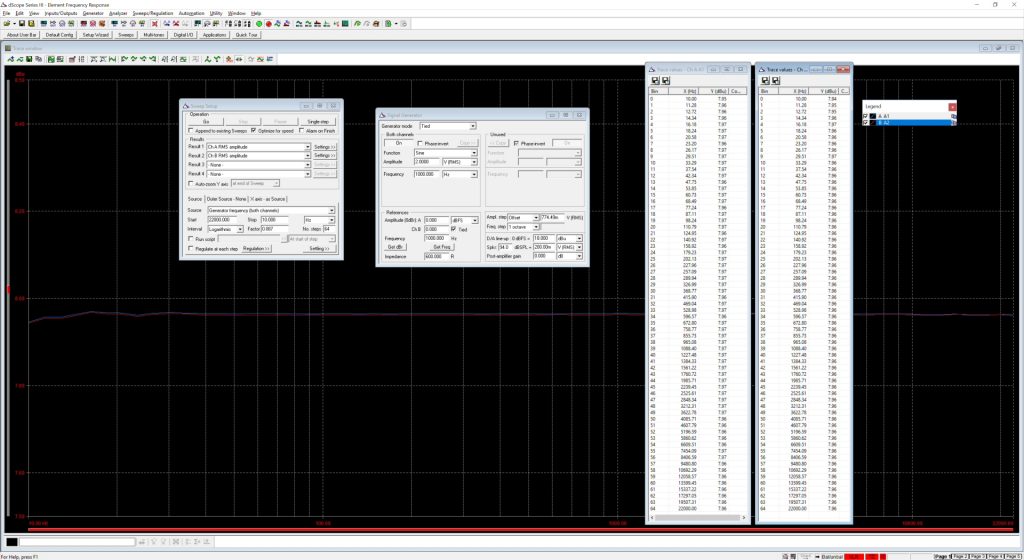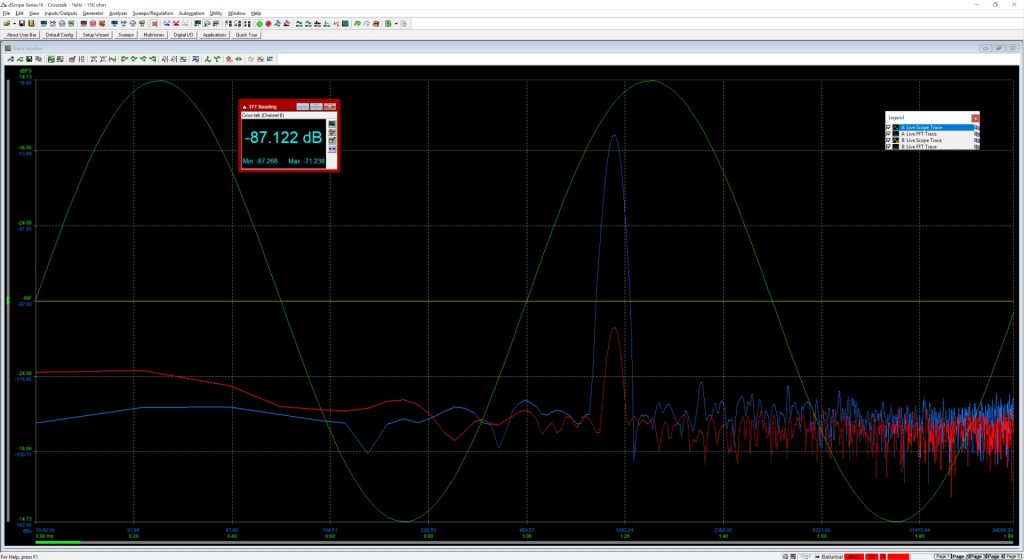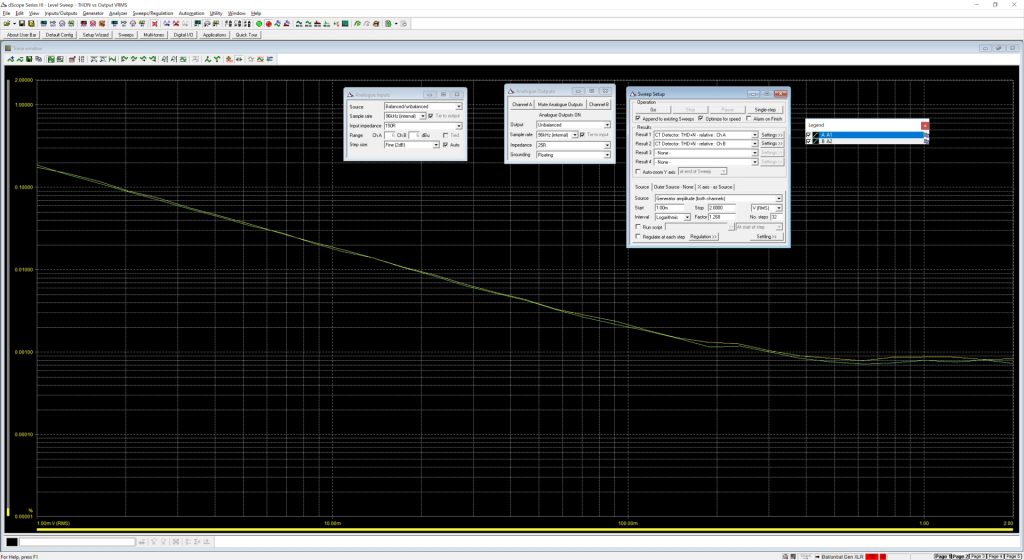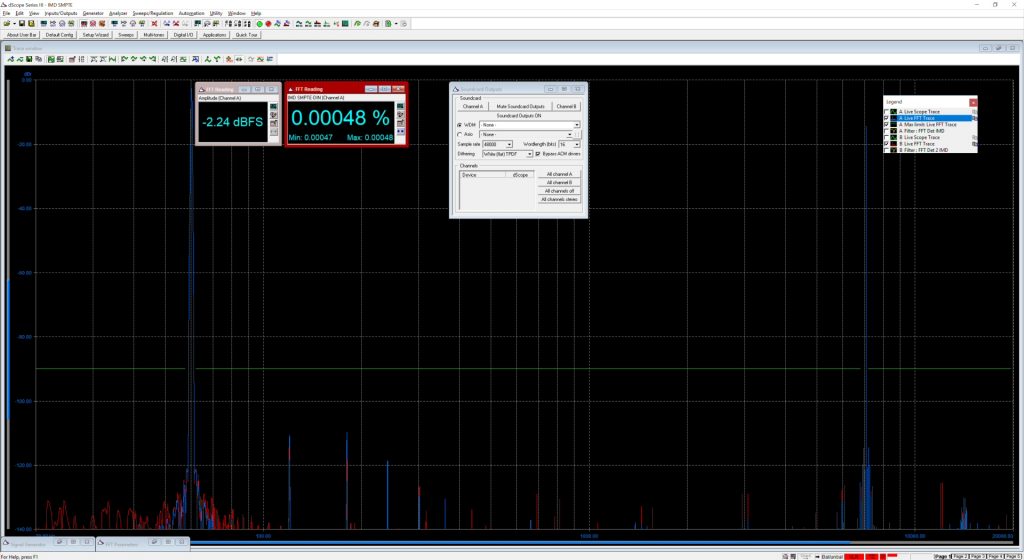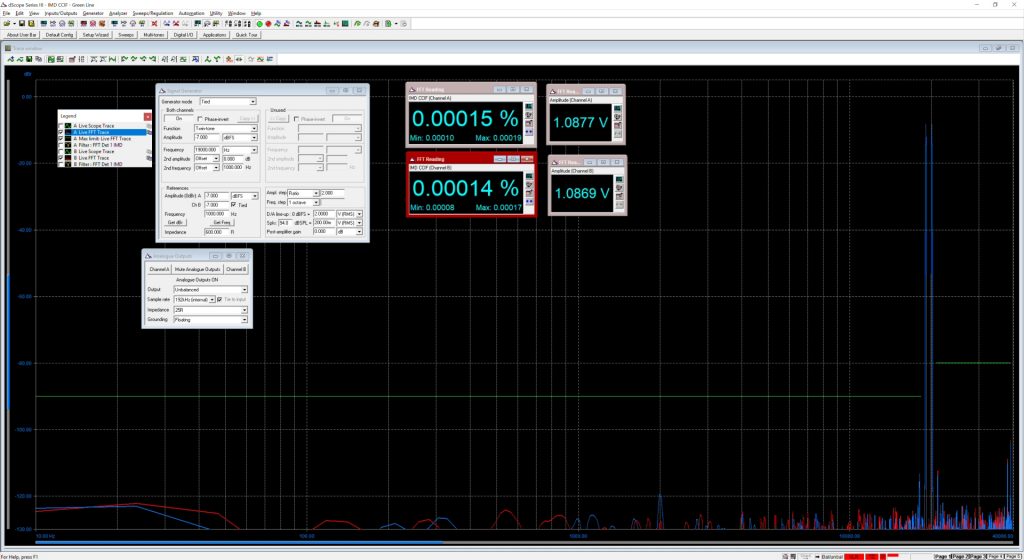 Production Banter
Atom Amp is our first all injection molded assembly. Because we primarily create aluminum enclosures at JDS Labs, we proceeded with caution, meaning one design at at time. Fortunately, Atom Amp fit together smoothly thanks to our production partners and the power of 3D printing.
OL DAC and EL DAC stack well with Atom Amp for now. As always, we're listening to your feedback!
Engineering samples of Atom Amp were sent to customers and insiders throughout the year for feedback. As we wrapped up testing and initiated v1.00 production, I handed a first-article board to our intern for a listen. A few minutes later, he reported reversed L/R channels via 3.5mm input. I listened. Yep, left and right channels were backwards. How had industry experts and I missed this?! Easy: We all use RCA input. Our team spent a week manually correcting pinout of the 3.5mm input on the entire batch of production boards. Performance, appearance, and functionality are all the same. I only share, as anyone who performs a detailed teardown may ask.
Being injection molded, Atom Amp weighs about 9 ounces. We added internal weights in the corners to better balance the chassis on your desk. Early reviewers enjoy the amp's feel. That said, weight can be customized as needed and we'll listen to your feedback.
Reviews
Atom Amp is in the hands of several reviewers and we look forward to seeing more community feedback in the coming days.
Links will be added and updated as they become available at:
Don't see your favorite outlet? Ask your favorite reviewer!
Availability
Atom Amp is IN STOCK at the time of this posting. We will ship upon arrival of packaging on Wednesday, November 21.
Quantities are limited by the number of 16VAC power adapters in our inventory, and we expect Atom Amp to sell out rapidly. More AC adapters will arrive early December. Inventory status will be updated here as well as on the Atom Amp product page.
Let us know if you have any questions!
---
Availability Updates
Friday, Nov 16 Update: Wow, we're blown away! Thank you to all who adopted Atom Amp within the first 24 hours. Your order will ship by Wednesday, Nov 21.Atom Amp will remain listed as "Backorder" until our next batch of AC adapters arrive in early December. Orders placed with Australian (AU) [AU sold out Dec 6] or British (UK) power adapters may ship sooner, while most US and EU orders will be fulfilled early December.
Tuesday, Nov 27 Update: Many thanks to everyone who has supported Atom Amp thus far. We're off to a crazy start! Production of a second batch began yesterday. We're actively working with our partners to keep the supply chain running smoothly.AC power adapters are scheduled for shipment to JDS Labs on Thursday, Nov 29th. Freight shipments typically arrive in about 1 week. Barring any freight delays, Atom Amps will continue shipping in early December.
Tuesday, Dec 4 Update: US and EU Power adapters arrived ahead of schedule and we're on schedule to ship all backorders within the next 1-2 days. Atom Amp stock is quickly vanishing due to high demand, and may be sold out by late December!
Monday, Dec 10 Update: The first batch of Atom Amp boards have sold out (thank you!). Batch #2 is being assembled this week, and we hope to resume shipping by December 20th.