JDS Labs is tremendously pleased to present Atom DAC+, an immediate successor to Atom DAC. Designed from start to finish on our new Audio Precision APx555 analyzer, Atom DAC+ came together as a contingency plan following the recent AKM factory disaster.
We know many of you will appreciate the improvements Atom DAC+ brings: USB and optical inputs, silent transitions when resuming from auto standby, even higher performance, standard support for UAC2 with UAC1 fallback*, and alternative firmware which lets you experiment with a tube-like sound. Atom DAC+ ships today.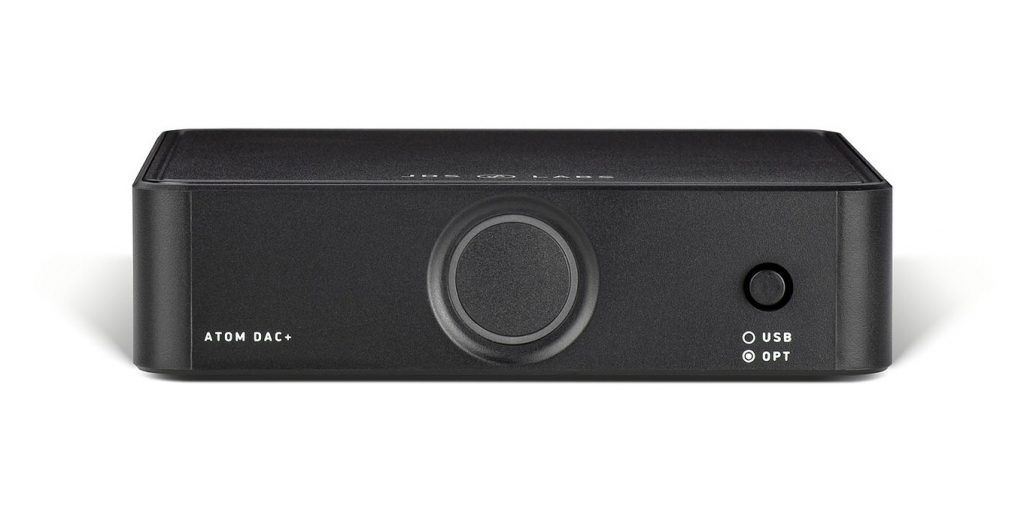 Scrapping our Plans
We did not have to release Atom DAC+ today. We secured an extra lot of AK4490s earlier this year to build more of the original Atom DACs. As Atom DAC+ came together, we took a risk and parted ways with our AK4490s in order to help a fellow manufacturer.
JDS Labs has also been investing in IP to minimize our reliance on proprietary ICs since well before the global pandemic and AKM shortages. USB and S/PDIF controllers are key to high performance audio and we find that our goals increasingly demand custom software development. Exceptional hardware goes hand-in-hand with code. Replacing proprietary silicon with software reduces cost, and in many cases, presents opportunities for performance optimizations. Alas, the AKM disaster threw a wrench in our plans, as we were still targeting AKM DACs in late 2020. Nearly a year of firmware development is being set aside for now.
Swapping the Chipset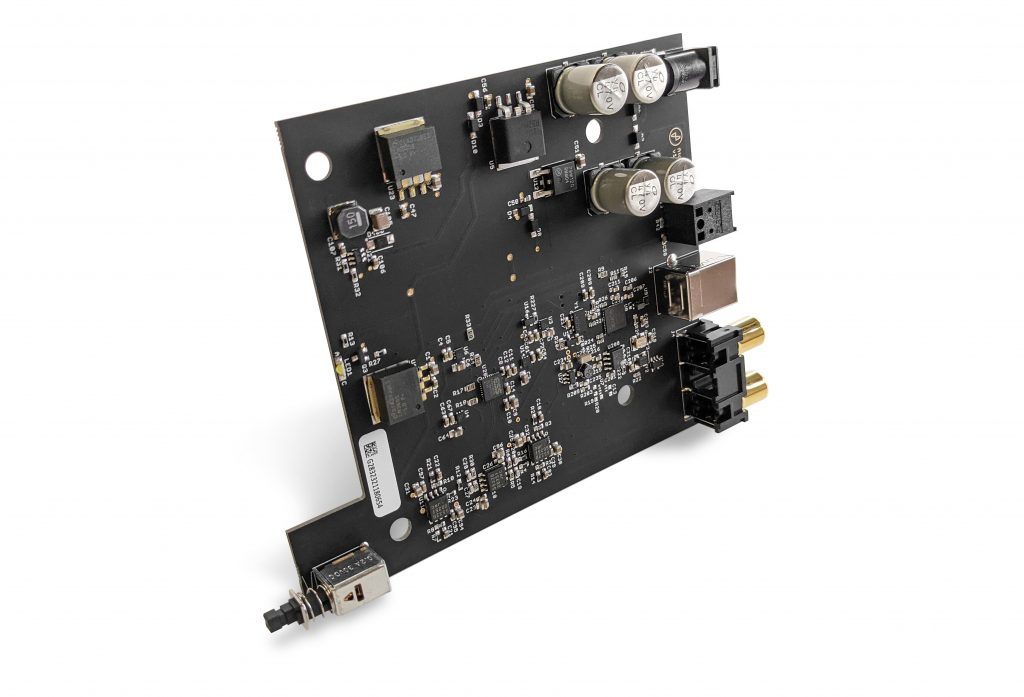 Atom DAC+ uses the same XMOS XU208 USB stage and dedicated AC power stage as the original. The left-hand side of the board is unchanged. Only the AK4490EQ and analog output stage have been replaced by an ES9018K2M and a carefully tuned, six opamp I/V converter. The -K2M variant has no headphone output driver, so like AK449x chips, it requires a high-performance differential-to-single ended output stage. We tried ESS's reference circuit and built something better.
ES9018 has some unusual characteristics. Its differential outputs are each 806 ohms +/11%, and so it favors I/V conversion at its outputs rather than a more compact voltage conversion circuit. We prototyped several I/V converters and observed average performance using the default ES9018 register values, around 90dB SINAD. Optimizing the schematic was only half the battle. Tuning the THD harmonic compensation registers and evaluating each component of the output stage looked something like this: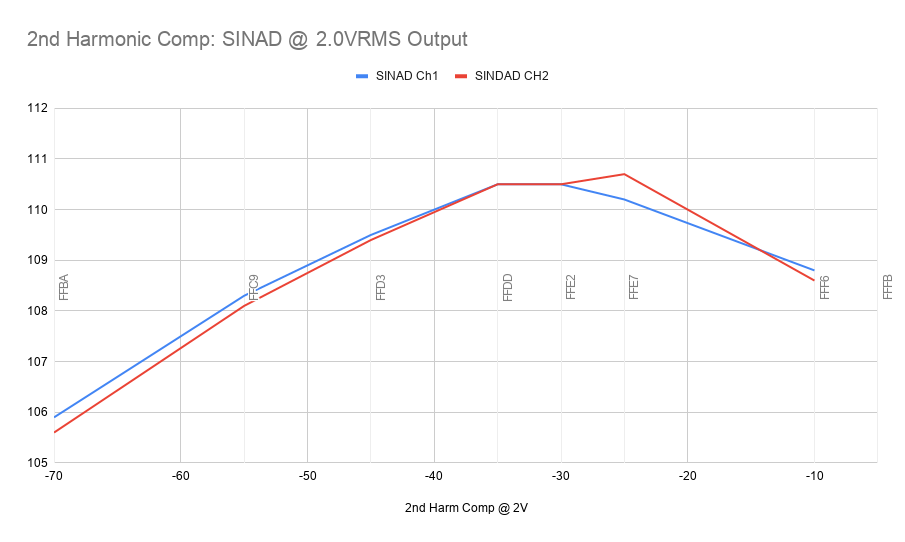 The trick is, optimal harmonic compensation values for ES9018 change with the smallest changes in hardware. At one point, I measured a 6dB drop in SINAD due to a different brand of resistor in the output stage. Same value, same tolerance, same composition, but worse performance. Maybe I goofed the solder job, or maybe there's something to ponder here with respect to subjective experiences vs. objective performance. At any rate, the register compensation values above are inapplicable to any hardware except for a final production Atom DAC+.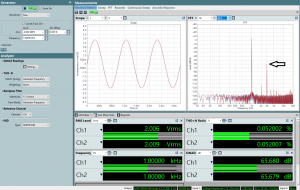 The ES9018's THD Compensation registers expose an interesting option. By leaving 2nd harmonics optimized and boosting 3rd harmonics, the DAC approximates a tube-like sound. This is not something I encourage, but it's an interesting experiment for those curious enough to try firmware v2.1.2 [Updated link 17-Mar-2022]. The difference between SINAD of 65dB and 110+dB is much smaller than you'd think.
Performance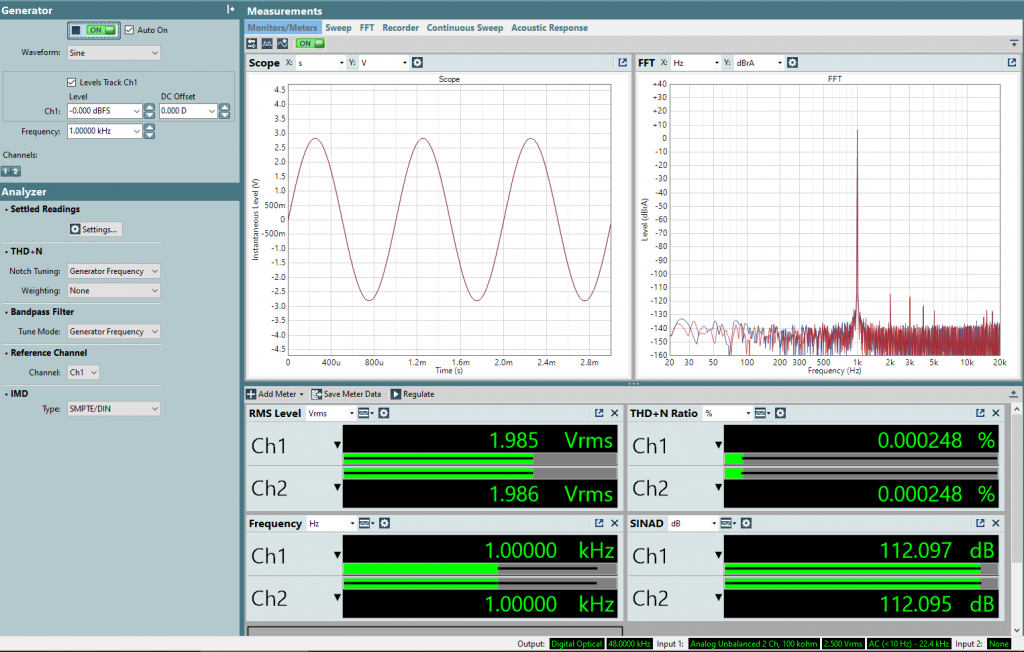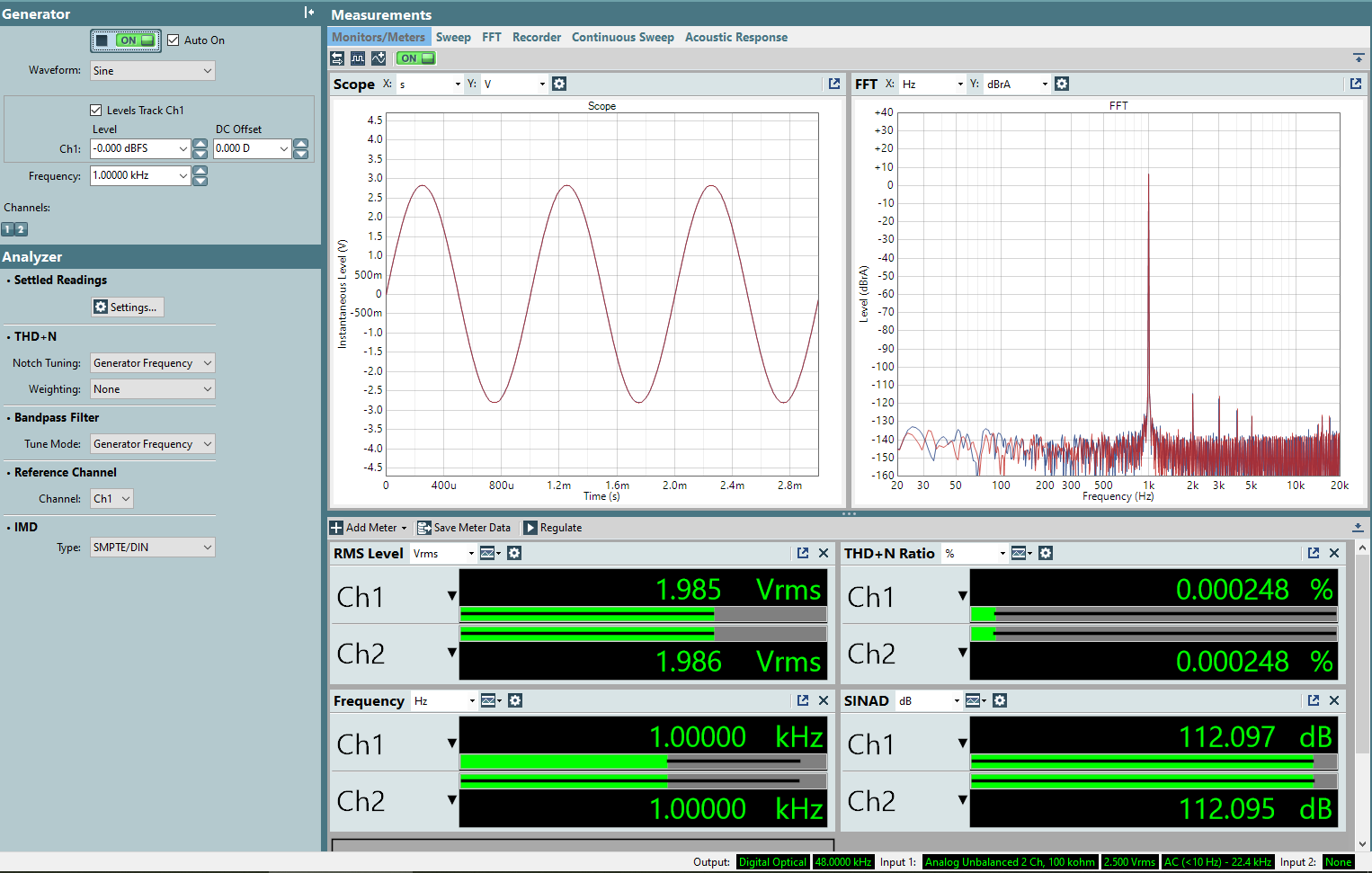 Atom DAC
Atom DAC+
Frequency Response, 20Hz-20kHz
+/- 0.15dB
+/- 0.12dB
SINAD @ 1kHz,
20-22.4kHz
110 dB
112 dB
THD+N, 20Hz-20kHz
< 0.0008%
< 0.0004%
SNR, 20Hz-20kHz
> 115 dB
> 117 dB
IMD CCIF 19/20 kHz -6 dBFS
-104 dB
-111 dB
Noise, A-Weighted
-109 dBu
-109 dBu
Dynamic Range, AES17, A-Weighted
> 117 dB
> 120 dB
Linearity Error -90 dBFS
-0.06 dB
-0.01 dB
Crosstalk -10 dBFS 100K RCA
-104 dB
-104 dB
USB Jitter Components 12kHz
-124 dB
-131 dB
Maximum DAC Line-Output, 100K
2 VRMS
2 VRMS
PCB Stackup
4 Layers
4 Layers
Atom DAC+'s MEMS oscillators run at twice the frequency of the original in order to fully support the ES9018 (was 22.5792/24.576MHz, now 45.1584/49.152MHz).
Firmware Features
Atom DAC+ ships with our latest firmware improvements, tagged v1.8.2:
UAC2 with UAC1 fallback* is now standard
Connection to Android and iOS Devices no longer require a USB hub
Resuming from auto standby is now instant and free of transients
*UAC2 w/UAC1 Fallback retains future firmware update capability. UAC1 fallback is activated when using a USB 1.1 hub or isolator. This method means you can connect to any operating system with UAC1 support (yes, PS4/PS5, and even Win XP and Win 7).  Custom UAC1 cables will be available at jdslabs.com in the coming weeks [Added link].
If you plan to connect to a PS4/PS5, you may install optional firmware v1.8.4 to lock volume to 100%. For more information and installation guidance, please see Custom Firmware Builds.
Special thanks to Rick for rapidly adding ES9018 support to our codebase!
** Warning: Do Not attempt to install Atom DAC+ firmware onto an original Atom DAC. While there is no risk of bricking the DAC, the AK4490 and ES9018 chips require different initialization routines. **
Availability
Atom DAC+ is In Stock at jdslabs.com today. For those who placed a backorder reservation for Atom DAC over the past three weeks, your order has shipped with a free upgrade to Atom DAC+.