JDS Labs Atom DAC
Atom DAC is built to pair with the enormously popular JDS Labs Atom Amp, adopting our latest XMOS based USB Audio Class 2 input stage with MEMS oscillator and support for future firmware updates. Atom DAC is powered by a dedicated 15VAC transformer, ensuring consistency of noise performance when paired with other transformer isolated amplifiers like Atom Amp. A subtle light ring glows when in use. Atom DAC ships today for only $99 USD.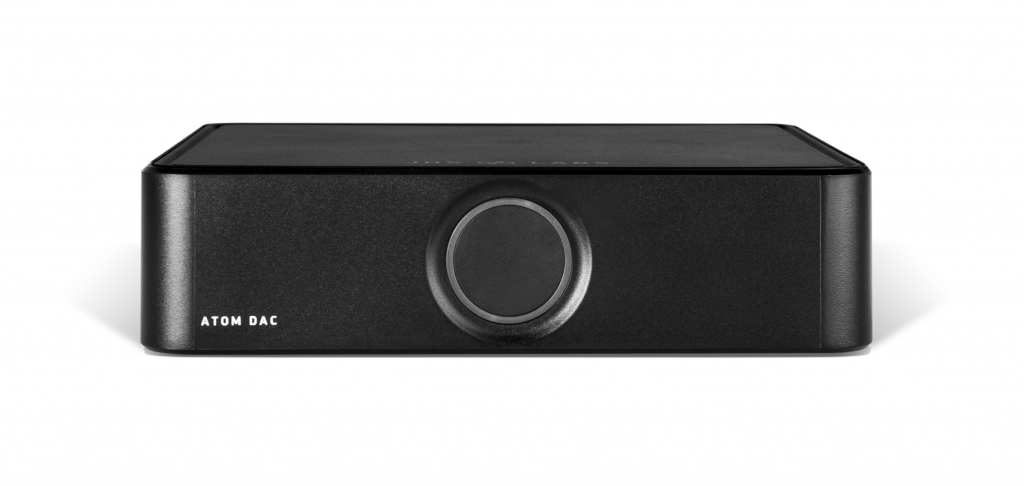 Design Motivation
We know expectations have been through the roof for Atom DAC since the day Atom Amp was released. Some customers hoped for benchmark records. Others asked us to drop a third-party board or JDS Labs OL DAC into an Atom case and call it done. As tempting as a shortcut sounded, we chose to follow our original plan of completing Element II and carrying over its new USB engine for Atom DAC, outperforming OL DAC with a sense of style.
Atom DAC weighs about 8oz by default, comparable to Atom Amp. Similarly, we can add additional internal weight upon request. No extra weight is necessary when used with JDS Labs
Stack RCA Cables
.
Firmware and Operation
Atom DAC runs on a branch of firmware developed for Element II, with a new feature suggested by a JDS Labs customer in Europe: The audio state is constantly monitored so that Atom DAC  automatically enters standby after 15 minutes of inactivity, powering down its light ring and D/A circuitry. Atom DAC wakes up and resumes audio playback within milliseconds. Standby mode can be disabled by loading alternative Sleepless Firmware if you prefer. We can make this change for you, or you may change over at any time using the provided XMOS DFU app. All downloads can be found on the Atom DAC page.
As designed, there is no need for a power button. Atom DAC powers up and down as needed. For the first batch only, we are shipping a free
in-line power switch
as well.
[Sold out July 18, 2020!]
Drivers
No drivers are required by Windows 10 or modern versions of MacOS or Linux. You may optionally install Atom DAC's XMOS drivers for proper ASIO support.
Current versions of Android and iOS have also been tested successfully. Please note that UAC2 support varies with mobile devices.
Performance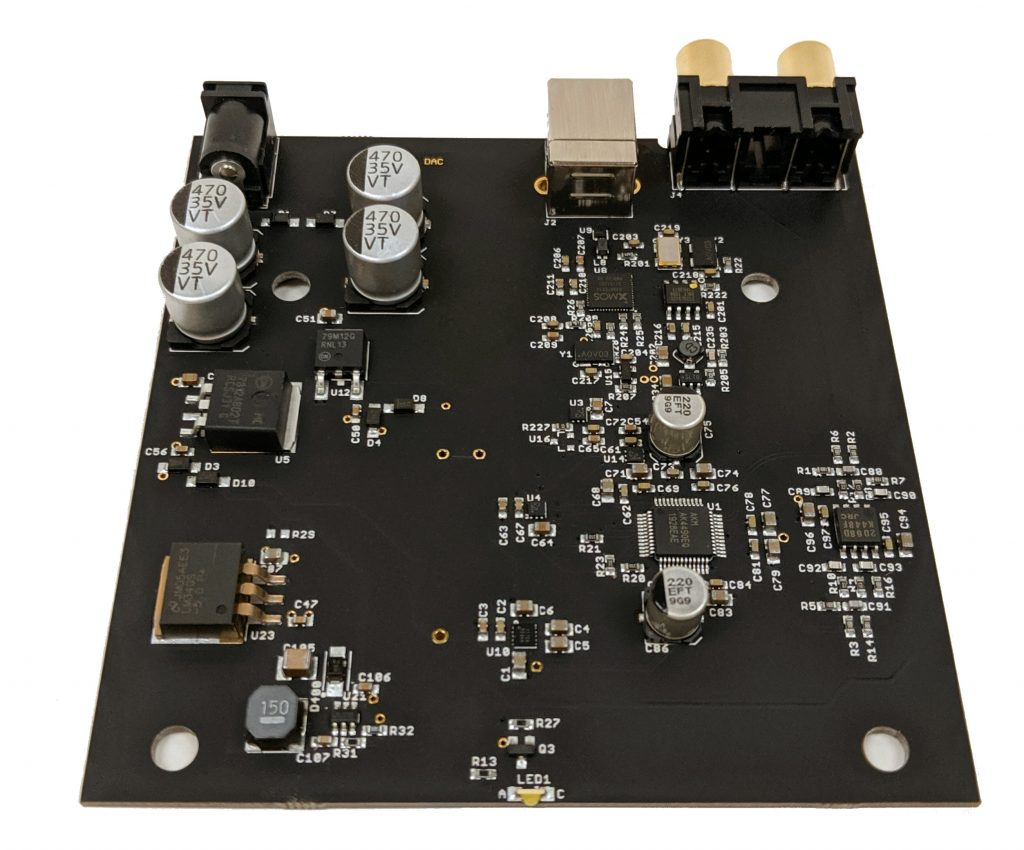 Atom DAC achieves <0.00045% THD+N @ 1k A-Weighted, or SINAD >106 dB*, exceeding the capabilities of our dScope Series III and Audio Precision APx515: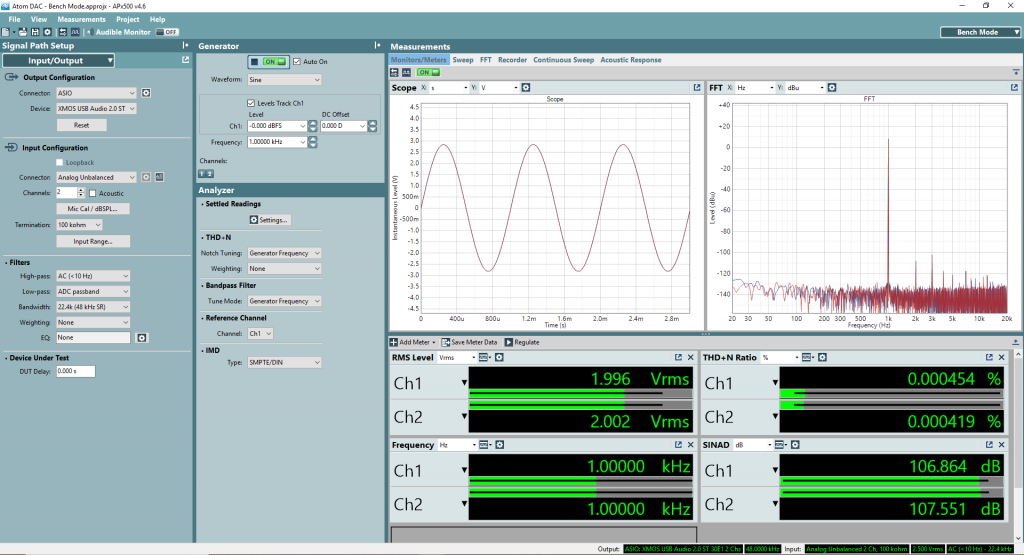 A 24MHz SiTime MEMS oscillator outperforms OL DAC's USB jitter by a wide margin of 8dB @ 12kHz.
| | |
| --- | --- |
| | Atom DAC |
| Frequency Response 10Hz-20kHz (192k) | +/- 0.15dB |
| SINAD | 110 dB* |
| THD+N 20Hz-20kHz | < 0.0008% |
| IMD CCIF 19/20 kHz -6.03 dBFS | 0.00013% |
| IMD SMPTE -6.03 dBFS | 0.0017% |
| Noise (A-Weighted) | -109 dBu |
| Dynamic Range (A-Weighted) | 117 dB |
| Linearity Error -90 dBFS | -0.06 dB |
| Crosstalk -10 dBFS 100K RCA | -104 dB |
| USB Jitter Components 12kHz | -124 dB |
| Maximum DAC Line-Output, 100K | 2.0 VRMS |
*There has been hyper focus on measurements in recent years, in a race towards Bigger and Better numbers. JDS Labs has benefited due to our longterm focus on honest performance.  If the agreed threshold for "transparency" was 0.005% THD+N nearly a decade ago (only 86dB SINAD!), take a moment to consider that SINAD of 96dB is 10x cleaner , and 106dB is 100x cleaner than the previously agreed point of transparency. Whether you're an objectivist or subjectivist, or somewhere in-between, please remember that our goal is to help you enjoy listening to the world's best headphones. Audio performance is exceptional today.
EDIT June 11, 2020: SINAD of 110dB has been confirmed on an APx555 by Amir @ ASR. Thank you!
Features
| | | |
| --- | --- | --- |
| | OL DAC – USB Edition | Atom DAC |
| Power Button | None | Auto Standby |
| USB Controller | SA9023 | XMOS XU208 |
| PCM Support | 24/96kHz | 32/384kHz |
| Upgradeable Firmware | No | Yes |
| Oscillator | CMOS Oscillator | SiTime MEMS |
Secret Release Dates
I know thousands of you have been begging for Atom DAC since the day we released the award winning Atom Amp. We were overwhelmed by Atom's success and a matching DAC was not on our 2018 roadmap. Atom is a wildly successful experiment which required a flurry of concept refinement during a period of 90% growth. Early feature considerations were ruled out, as we recognized that the majority of customers adopting Atom wanted a competent, affordable USB DAC.
Two alternative Atom DAC featuresets were prototyped concurrently in 2019. The more complex featureset worked, but would have pushed cost higher unless we lengthened development time to omit the 15VAC transformer and revert to a USB powered design. We committed to proper AC mains isolation in our last generation of DAC designs, and our customers have been pleased with the consistency of AC powered DACs since then. Keep in mind that the "free" 15VAC adapter bundled with Atom DAC retails for $16.99 USD, so a healthy chunk of Atom DAC's cost is our commitment to the benefits of an AC transformer.
Atom DAC was originally scheduled for release in November 2019. I began hinting that Atom DAC was close and would be released in 2019. Firmware was complete, enclosures had arrived at JDS Labs, numbers looked good, FCC/CE testing passed, and listening impressions had gone well for those of us at JDS Labs and for random customers (thank you to all who evaluated!). What could go wrong?!
Just days before we initiated PCB fabrication, I visually compared measurements of Atom DAC to the older JDS Labs OL DAC. Uh oh. I had ignored small 60Hz*n spikes, masked by numerically excellent A-weighted testing. We normally run both A-weighted and non-weighted measurements. I had skipped non-weighted testing on the fourth prototype after seeing strong performance of the first three builds. Knowing the cause and solution, I cancelled the Nov 2019 production to run to build two more boards. Atom DAC v6 finally passed all testing and was released for PCB manufacturing on Dec 23, 2019.
When all materials are available, PCB production runs can be pulled together in under two weeks. Atom DAC relies on some relatively obscure parts, with lead times of 8-14 weeks. I conservatively withheld ordering three components in bulk until the last minute, due to their direct impact on radiated emissions. These parts can be substituted or customized to balance performance and emissions compliance, and must not be changed once a design is locked in.
Electronics are globally sourced. As the ship date neared for the critical parts, our US distributor issued a notice of extended lead times due to COVID-19. Likewise, lead time of AC transformers doubled. Just as we were ready to announce Atom DAC, the pandemic forced the majority of our staff to work from home. Fortunately, we had not announced a firm date or taken preorders, so the only harm done was to our patience.
Thank you all for waiting. Atom DAC is here, and we hope you enjoy!
Availability
Atom DAC is In Stock exclusively at jdslabs.com today.
---
Reviews