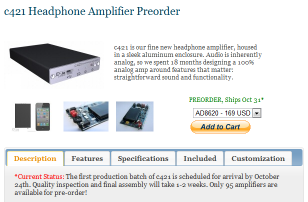 Someone reminded us that we haven't posted a c421 update in "forever". Today's your day:
The c421 preorder page is now up! Note that the release date is tentative, so the page cannot yet be found through our store, and the formal announcement e-mail has not been sent out. We'll send the official message when the date is 100% certain.
Features, specifications, and a description of c421 can be found on the preorder page.
Fewer than 95 amps are available for pre-order.
Price: $169
Quality Inspection 1…
The first batch of enclosures arrived Monday, but we rejected the shipment due to a total lack of packaging. Every single case was scratched. I don't know about you, but if I'm paying $169 for a device, it better look decent! The manufacturer is redoing the job immediately. This sets us back 1-3 weeks, but high quality is more important than speed.
Timeline
Assembled c421 circuit boards are scheduled for arrival by October 24th [Edit: Arrived OCt-21]. If you preorder now and get impatient, we can send the amp in a temporary rejected enclosure. You can order another enclosure later for the cost of shipping. Just send us a note.
October 31 is the earliest expected shipment date. Realistically, we anticipate all preorders to ship by November 14.
Rocky Mountain Audio Fest
It's 1PM Wednesday and I'm scrambling to fly out to Denver for the 2011 RMAF. We're not exhibiting, however, I will be wandering around the show. Tweet (@jdslabs), e-mail, text, or call if you'd like to hear c421!